1 x 10 gears. 1 x Ti 29er bike. 1 x happy rider.
This setup is proving totally bombproof.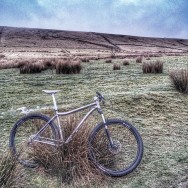 I'm up to 120 miles of heavy winter / spring abuse of my Titus Fireline Evo Ti. I made a few personal adjustments – I'm impressionable, but at times I'm old school. I still like to clip in, am not a fan of the extra weight a dropper seatpost brings unless I was riding in the alps on a weekly basis. And the gears… let me tell you about the gears…
I tested the single rings on offer from Absolute Black in the autumn on the cross bike (video here) and was impressed. I was keen to try this out on gnarlier, rockier riding on the mountain bike. It stands to reason that the weight lost by shedding a front changer, cable and mech is a bonus, and it is basically a damn sight tidier and cleaner in that department, too. It's rocky rather than claggy round here (a different problem to the 'cross scene) so I was keen to see if the concept worked – without the clutch-style rear mech that SRAM insists upon.
All I can say is that the chain has not even hinted at derailing.
Loving the bike – a light, forgiving trail bike adorned with some very generous On One Smorgasbord / Chunky Monkey 'all mountain tyres make it feel incredibly tough, but nimble.
More here: