I feel blessed.
As a cyclist, at this time of year, it can be a bit of a daunting time. Ancient myth and unchallenged tradition dictates we should be out there getting base miles in our legs. But just look out of the window. 6 days out of 7 since early December, it's been blowing up some nasty storm or just plain rainy. Cycling is for the committed. Clearly, that's not me. No way.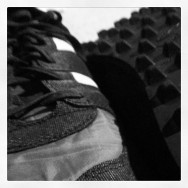 In the 45 to 75 minutes per day that I can generally put aside for sport, I need an escape from the desk, and I feel blessed that I can run. It's so simple. When the weather's wet, or it's blowy outside, too dark to ride in complete safety, or just plain freezing, running generally still takes place in the same gear, give or take a layer or hat. You're ready in 3 – 4 minutes, leaving more time for the actual good bit.
In contrast, I've found winter cycling, despite loads of lovely weather-proof clothes, a decent lightweight winter bike and all-important mudguards, more and more of a faff.  After a bit of excitement after getting back on the bike post-operation a month or so ago (as I blogged here for Planet X), it soon came home to me how miserable it can be at this time of year, too..!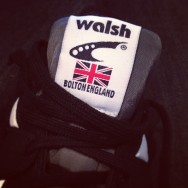 It's the layers, the washing, the bike cleaning, maintenance, the choice of route to allow for being blown about the place, or even planning to get blown home… the random mechanical cock-up, the odd puncture… it all adds up to something that just means more and more faff – when you have a choice… to run.
Not that running is without its dilemmas, of course. I do enjoy the option where I live of the moor, the woods, faster pavement runs, fulfilling open-space quiet ones. It's not a boring option. It's no cop-out either.. Here's the science bit.
The science bit
I've been reading mildly about views on this and although everyone has an opinion, it seems, the weight of it does tend to favour running as an effective supplement or even alternative to cycling – for cyclists. A 20 minute run taps into roughly same resources as a one hour ride (ref: http://roadcyclinguk.com/riding/cycling-winter-training-running-for-cyclists.html) and anyone who dips into running from time to time will know that – purely from how the body feels after 20 minutes. There's fairly obvious use of more muscle groups in running, so fatigue effects kick in easier and hence lungs and heart have to work harder to sustain the effort.
It's also, more anecdotally, good for the soul. The faff-removal in particular.In an October 2012 'serious' bit of research by Øyvind Støren, published in the Journal of Strength and Conditioning Research, even with the partial substitution of running for cycling, a rider's total monthly training volume dropped by 18 percent during this preseason period, but the amount of training he did in the range of 90 to 95 percent of his maximum heart rate increased by 41 percent.   We know from our other winter cycling alternative as cyclists (the loathed but necessary turbo trainer) that high Intensity workouts Increases VO2 max – so does running.
Drawing the line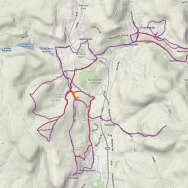 Although my running volume's gone up a relatively huge amount this last few weeks, as the 'January Run Map (right) shows, I doubt I'll be doing any more running races this year than I have in the past. It's a lovely, grass-roots, welcoming sport, as I know from the odd fell race I turn up to (usually two a year, max, these last few years) and the cross country leagues I've been taking (daughter) Lily to. However, I like to give things my best shot and in order to become a much better runner, I'd need to put in more time, vary my sessions, focus on different aspects… I only have room enough for one obsession and that's biking. Running's just a great, helpful alternative to training rides.