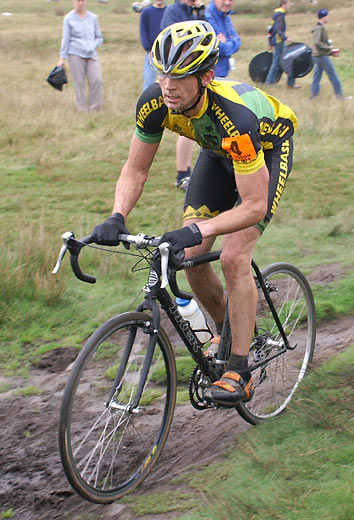 It's Sunday night, the bikes are washed down, Lily's in bed, and it's a lovely moment to sit here and contemplate what a great day I just had. I prepare for this race as if it's the only race that matters, and can't say that there's been a bike ride or fell run during the last year that I haven't thought about the Three Peaks.
I finished 15th today – my best position from eleven events – and took five minutes off my previous best time. This, despite being seriously delayed by a snapped chain on Penyghent – the final climb – which forced me to run for ten minutes whilst people I'd worked so hard to drop trickled past me. I was in eleventh place at the time and it was looking pretty safe – but that's the type of race it was – and I'm not bitter because anything in the top 20 would have made me chuffed – I'm bloody elated.
Basically, I went well from start to finish. Looking back, I've had a good couple of weeks – still getting the miles in but some valuable off-road rides and some equally valuable rest and sleep. I went over Ingleborough so much better than in previous years, and although I was clumsey on the descent – over-cooking it and nearly crashing a few times – the worst I suffered was a chain that kept unshipping itself. The bike changes worked well for me and I was riding in a gouprette with Ian Wilkinson (basically, a god) and North Eastener Steve Nixon. Good company and I started to really believe. Tolly gave me my 'Whernside bike' and we were joined at the Hill Inn turn off by Noel Clough. The four of us were moving along at a stiff but managable pace.
On the climb of Whenside, I was shocked to find myself running – I've run the odd section before but I ran probably more than half of the unforgivingly steep side. I was on a good one this year. Rain and hail met us for a short minute or two near the ridge at the top and I looked round to find I'd separated myself from the others. This was good stuff!
Coming down Whernside, after a bit of a comical fall overtaking a veteran (started 30 mins ahead), I started to get a good bit of momentum up, but the wheels came off the wagon – almost literally – when I flatted my back tyre. I made the immediate decision to continue on the flat – losing possibly two minutes – as opposed to the four or so it could have been if I decided to mend it. I had a bike change three miles on and although it was a rocky path, I knew it well so the gamble was worth it.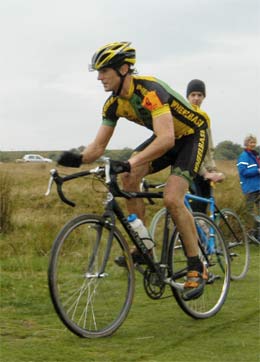 Tolly saw me on my way with some malt loaf and a bike and I found myself in no-man's land – sandwiched between two groups of riders – for the headwind road section to Horton. I pressed on and kept my advantage – but started to get one or two worrying tinges of cramp in my inside of my thighs.
Katie met me at the start of Penyghent, where I took another bike change and nervously contemplated cramp as I set out on the rocky but mainly rideable track. Suddenly cramp was forced from my mind when my chain link snapped. I knew I was in eleventh place at this point but it was a terrible few minutes as I contemplated all the riders I'd worked so hard to drop just passing me back. I had to let this happen as I ran and carried the bike, begging a chain tool from any race supporters or riders. I'd (selflessly, it turned out) given mine to Stuart Reid when he'd had chain trouble on Ingleborough, adn now I was suffering! Eventually, one lovely, lovely man in the veterans race gave me his tool and I was off on my way after losing probably five minutes – but seven places.
I ran and rode up the rest of this final climb a man posessed. I didn't catch anyone on the climb but caught three of them on the descent. I'm not normally over-cautious on the descents in the Three Peaks, but I took lots of risks and they luckily paid off as I picked off three riders.
The run-in from Horton to Helwith Bridge is nothing short of Purgatory when you know you have two riders breathing hard down your choulder. Noel Clough and Stuart Reid weren't prepared to give me an easy ride and I had to work those last two road miles hard before coming in very happy with 15th place. Despite my troubles – not dreadful ones but not easily ignored – I had shaved five minutes off my previous best and after eleven years, I went under three and a half hours.
Training for the last Sunday in September 2007 starts tomorrow morning!
PS – Phil's blog report of the Three Peaks here