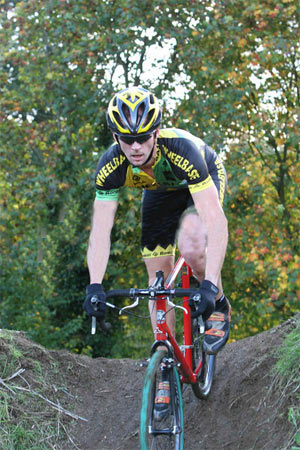 The second round of the highest level of cyclo-cross competition in this country and I travelled down to Ipswich a bit nervous, but also a bit resigned to my form not being where it was last year.
Had an overdue bit of bonding with my Wheelbase team mates Rob, Stuart and Lewis (thanks for the lift!) and managed to keep it down to four polite pints of Guinness on the evening before.  Rob and Lewis didn't snore: my luck was in !
The race day itself was very, very enjoyable.  I'd never turned up so early to a national trophy event so preparation was very relaxed and subdued.  The course itself was an absolute cracker – some testing technical bits but all pretty fast if you kept your concentration up.
The 'other' races (Juniors, Veterans, Women, etc) were good for the North West riders, which helped to make the day rewarding.
My performance in itself was still pretty lacklustre.  I had one of the slowest opening laps I've ever had at this level, which didn't help, despite having a good warm up.  By the time I got myself motoring I'd 'missed the train' and could only make up a few places.  On the whole, my performance was better than Cheltenham and I was right on the nail with skills and technique, I just wasn't fast enough.  More structure to the training will follow!  33rd in the end and a lap down on German winner Malte Urban.
Links:
British Cycling website race report and photos
Lots more photos
North West cyclo cross association website report.