It's been a funny season so far in the Science in Sport crit races at Preston – last night was my fifth Thursday in a row there and there's been trouble of some sort in the final lap each week, either someone crashing or a few riders taking a detour onto the grass.
Last night, it was my turn to hit the deck. God knows I've gotten away with it for long enough now. When you're 350 metres from the line and the sprint is just reaching full speed (32mph according to my Garmin 305's records), you don't have much room for manoeuvre if you find two people and their bikes on the deck in front of you. Over the top I went and somehow managed a complex but effective forward roll.
The injuries I sustained were minimal in the circumstances, but I had to get a nice bloke called Alistair to drive me to A&E in Blackburn for a dislocated and very painful finger.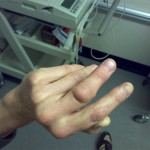 The trip to Hospital was pretty good, all things considered. I was seen and tended to, including four X-Rays, in fairly fast time. The high point was finding out that the hugely swollen digit was just dislocated – it looked very, very broken to the untrained eye, and wasn't pointing where it's finger colleagues were pointing. The most humorous moment was when it took two male doctors almost ten minutes of almost wrenching my arm from my body in brute force as they painfully pulled the anaesthetised finger back to where it ought to be. A quiet, final click was a very satisfying noise indeed.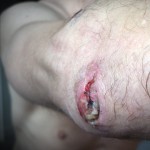 A deep cut on my elbow plus two grazed shoulders and a bruised hip finish off the set, but they're all minor and there was no torn lycra.
The whole episode meant a very late night but all in all, I feel like I got away with it… as most cyclists seem to do in high speed crashes. I don't feel like contesting the sprints at Preston for now – when I resume in a few weeks (post natal!) I'm going to be concentrating my efforts on getting a break away working, as we very nearly achieved last night. Fingers crossed.