A big day out. A big and hard day out. But its done with now. I knew the day would come when i was satisfied to just "finish" something. I guess this comes with age.

It's been a while since I did something well outside my comfort zone. This was a bit daft because I really haven't had any big mountain running or fell racing to speak of apart from the odd short local one for a number of years now. I entered this back in February with the intention of getting into the Lake District and doing a few days of proper Mountain Time in order to prepare myself, but as things worked out I developed a calf injury so decided to knock it on the head. Then a couple of weeks ago I suddenly started to realise that my calf was better, so my you only live once approach to life suddenly took over and I just decided to do it.
My engine is strong enough with plenty of cycling and I've been running once a week for half an hour or so with the juniors, so for someone with a fair bit of fell experience I knew that I just had to completely reel it in and go as slowly and sensibly as possible.
I started out and indeed continued with the right kind of pace and approach. No problems at all for the first couple of hours and I was quite pleased with how I'd been handling things.
All the indications were that me and the people around me were going to get to the all-important cut off at the summit of Great Gable within the time limit, to allowers to continue. (did you think I was trying to compete for the win? This was a mission to finish!)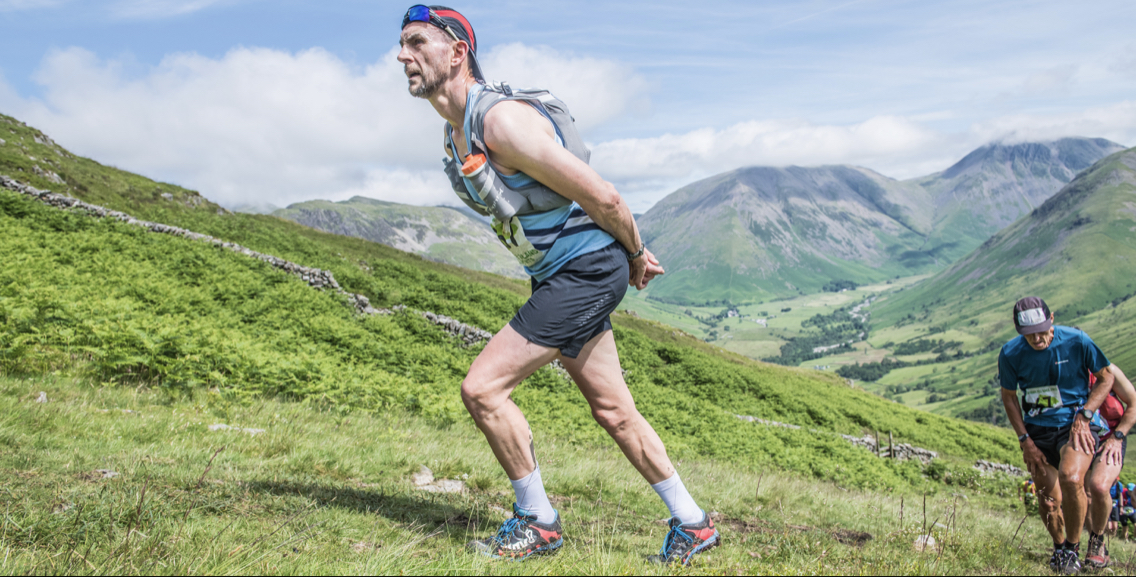 When you're not prepared things start to unravel inevitably and as I got over 3 1/2 hours I realised that I was running on empty despite what food I had been putting into myself. It was a hot day and despite lashings of suncream and a cap that I meticulously dipped in every stream I crossed – it was pretty harsh now.
I reached the Great Gable cut off with 15 minutes to spare. I felt so sorry for the 42 runners who didn't make the cut off time. What a way to go to not be able to finish.
From there on however it was just dire. Absolutely agonising on the descent and very slow on the climbs.
I managed to prevent cramp generally but lots of twinges of it coming on made me really have to reel everything in by basically walking the final climb and descent of Scafell. A jog at times but it was definitely anything but fell running. My skin on my heels had long gone but that was just manageable pain. The elephant in the room was that I'd miscalculated the food I needed by about an hour. On the final descent in between walking and jogging I was starting to have strange hallucinations and making some weird irrational decisions.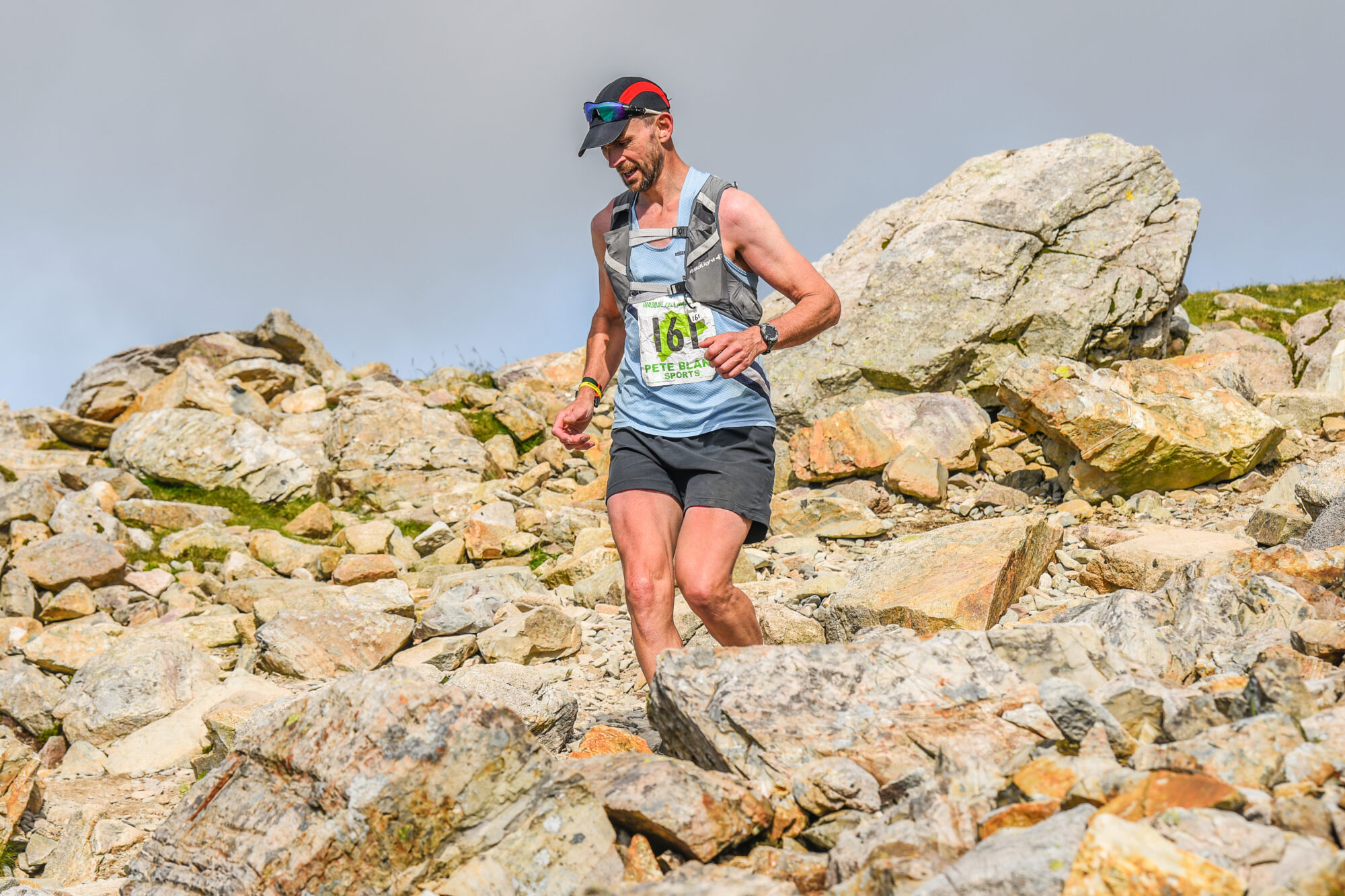 One particular low point was when the descending was hurting so much that I somehow decided to stop and walk uphill for a bit in order to try and make myself feel better. Not really ideal when you're in the last mile of the descent to the finish. When I eventually got to the finish I was in a semi conscious weird state. It was only food really that I needed and managed to shove an enormous portIon of sticky toffee pudding into my mouth along with a litre of water over the next five minutes. I came round.
This is the first time that I've ever done a race purely with the intention of finishing.
I suppose this comes to us with age, not really keen on competing in any real sense but if you're going to do something purely for the challenge of doing it, then the Wasdale fell race is right up there amongst the tough ones.
It is an itch that I've simply scratched now and that's fine. I've done a Lakeland classic and completed it.
It was far more psychological torture than my Bob Graham round for me, but duration a whole lot shorter. It wasn't harder, it was just made hard by the lack of preparation. I knew I had it coming to me, and come to me it did.
However, somehow I got one over on it. Cheated the system. Did it.