The Fred Whitton Challenge is billed as a 112 mile sportive ride for charity around the English Lake District, taking in six of the major passes en route… starts and finishes at Coniston, and includes the climbs of Kirkstone Pass, Honister Pass, Newlands Pass, Whinlatter Pass, Cold Fell, Irton Pike, and finishes with the brutal Hardknott and Wrynose Passes.

I've ridden the Fred Whitton Challenge in the Lake District for the last three years now, and seem to have got by on not much specialist training, but today's event was the closest I came to coming unstuck! Although I'm not too gifted as a climber and don't immerse myself in the world of long training rides, I've managed to get by on some type of fitness or other in the past. This year's preparation was taking it to extremes, with my longest ride this calendar year being 2 hrs 15 minutes (the ride is generally over 6 hours). I also had a three week chest infection which culminated in a course of Penicillin starting on Wednesday. We're not talking 'training camps' here.
But cometh the hour, cometh the Loafer, and I managed to somehow avoid death on the hottest extended bike ride I've ever done.
Avid readers will remember that I cleverly decided to ride as a domestique last year (a team helper), hammering the pace hard for the first 50 miles, and cunningly giving myself an excuse to do the rest of the ride at a relative trundle. Well this year I had a helper – a super-domestique in the shape of last year's record breaking rider Lewis Craven, who'd been equally slovenly in his training in recent months, and was quite happy to work like a horse with me on the front of the 50 strong group until the first 'killer' climb at 45 miles; Honister Pass.
Whether the pace or the lack of training was the undoing of Lewis and I is up for debate, but come undone we did, big time, later on.
On the descent of Newlands Pass, Lewis punctured, and we agreed that I should push on at a leisurely pace to the top of Whinlatter Pass, where I'd wait for him if he hadn't caught me. And wait I did, for ten minutes, until one very dead looking record-holder emerged up the climb. Lewis had blown and we were half way round. Bugger.
We took things really easy along the western side of the course, and decided at the second and final food stop (Gosforth) that it was time for a good rest and a gossip, so we ate and chatted to a few helpers and set off back ten minutes later.
The approach to Hard Knott pass, easily the hardest part of the route, is purgatory. Especially when you haven't done the training. But up we rode, where most decided to walk in the heat, and were starting to approach home and dry. It was 28°. The heat was a contributing factor in Lewis's second puncture on the hairy descent of Hard Knott pass (the hot rims from braking melted the rim tape and a spoke poked into the tube!). I mended it for him this time. He was in a worse state than me.
We pressed over the final climb of Wrynose pass and rolled home rather flaked out and a bit sunburnt in a pretty unremarkable time of over seven hours.
Oh well. We still winged it I think, considering the lack of training. And we were mini heroes in helping keep the pace so high early on that Wheelbase team mate Rob Jebb manage (along with national hill climb champion James Dobbin) to break Lewis and Stuart Reid's record for the event. Bitter-sweet stuff for Lewis, but that's cycling. He was modest and full of humility throughout though – a very respectable man!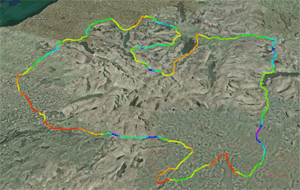 View the 2008 Fred Whitton in Google Earth
FULL CLICK HERE for full Fred Whitton Results 2008
Photos here (or slideshow if you'd prefer).
My Stats from the Garmin 305 (didn't pause it at any time).
109.4 miles
Max speed: 51.9mph
Total Calories: 9367
Avg Heart Rate: 151bpm
Max Heart Rate: 179bpm
Total ascent and descent: 14061 feet