So that's the break over with. 52 days after Elsie was born and 54 days since my bike crash, I've finally got back up and running and started the 'training' as opposed to the 'keeping ticking over'. I'm really glad I forced myself to do the Waugh's Well fell race earlier this evening.
A shade under four miles and climbing approx 1300 feet, it's a classic Lancashire short fell race. I did it a few years ago and know the hill of Whittle Pike (climbed twice) really well – our house pretty much looks onto it so it's a real landmark to me.
The time, and position were neither here nor there. I'm not sure what I was expecting, but what I got was one heck of a workout and a reminder that competition is the best form of training. A couple of years ago I'd have been pushing a top ten in a race like this on a good day, but I was content to push myself as hard as I can this evening in the knowledge that I'm back to training rather than keeping fit.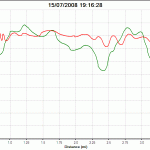 Another gobsmacker for the statisticians out there… average heart rate of 178bpm for the race (look at that graph… redlining!) and a max of 186. At 38, that's pretty good and I think the max-est max I can recall since getting the trusty Garmin 305. View the course here in Google Earth. Mainly and out-and-back up-and-down race with a loop in the middle.
I beat my previous best by 40 odd seconds – I did the race four years ago and came 22nd. Not sure what position I was this year but it was about the same. Room, and time for improvement… the upward slope has started, touch wood.