It's amazing how a bit of warm weather makes life so pleasurable.  Home life for the past week seems to have been a perpetual cycle of playing in the garden, going to the park, sitting outside, eating outside, riding bikes and generally not being indoors to do much other than work and sleep.  I even heard talk of a heat wave earlier today ont he radio – the very prospect thrills me, I must say.
I generally consider myself to be someone who loves the outdoors, but on a lovely long evening bike ride last night on the lightest Sunday evening of the year, I saw so many people outside – cycling, walking, drinking wine or beer in their gardens, playing in parks, riding horses… it was just such a different country or county to the one I'm normally slogging my bike around.  The weather has such a big impact on me and my lifestyle but I'm clearly not alone.  Come along, heatwave – I'll deal with the drought if and when it comes.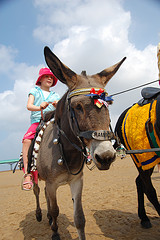 Yesterday we did that other thing that we all can't resist when things get warm – we had a brill trip to Lytham St Annes – the nearest decent beach – and had a great time consuming coffee, ice cream and, in Elsie's case, sand. We do things early on in the day these days – it makes sense with us all being awake early, so we got a good spot and had had enough by 1pm, as things started getting a bit warm, so headed back home for a lovely BBQ and some more quality paddling time.
Summer's pretty ace really.