Had a lovely day today. My training rides these days tend to be not much more than an hour in length. This has its advantages – you can go out and totally hammer yourself for an hour or so and get all the training benefit; I really believe that if you want to be fit to race well you can gain little from pounding out the miles. Greg Lemond agreed too in an excellent article in one of last year's ProCycling magazine articles.
However, training theories aside, there comes the odd day when you really just fancy a long ride on yer bike! Today was a classic candidate for that because we got a letter through the door from United Utilities saying that our electricity supply was going to be cut off from 9am until 4pm today. As a computer-based home worker, with a daughter at school and another booked into nursury, it gave me very little choice than to do an old skool long bike ride.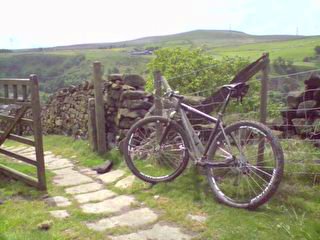 What a grand day out it was. I rode the 46ish mile off-road extension to the Pennine Bridleway – the Mary Townley Loop – after a five mile ride out from my house to Waterfoot – and what a lovely day it was.
The route takes in everything from very rural and very gorgeous landscapes round Worsthorne Moor and Heptonstall Moor to the north of Calderdale, right back down to earth with the burnt-out car zone at the bottom of the ancient, semi-cobbled Rooley Moor road from Rochdale to Rossendale.
Did the whole lap in 4hrs 44 mins – a bit embarrassing on the face of it but I really wasn't pushing it too much and about 4 hours 43 of that was opening and shutting gates !
Highs:
Lots of them: Tailwind off road slight downhill past stoodly pike after a long climb
General remoteness of all the 'long causeway' section – the northern part f the loop
Climb up out of Calderdale bottom through woodland
Descent from Deerplay (only grass descent of the day and it was fun)
Lows:
I'm not as keen on gates as the person who designed this loop thinks I must be. I didn't count but there must be more than 100 – god knows what my average would be like without all these stops!
Hand blisters from full pressure tyres and a rigid bike
Two or three spots of just very bad waymarking
This was my first 'proper' Mountainbike ride after my broken collarbone started to heal (it's not there yet!).  Did a couple of off-road rides round Holcombe in the last week and I must say that I have more trouble from my collarbone walking at the moment than riding.  It's odd, but at least I can enjoy the bike for a bit.  I know I won't be properly fit til I can run again – and that may be a few weeks off.
View the route in Google Earth here