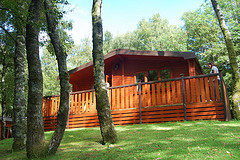 A third family holiday this year for us Haygarths in the UK – the 'Staycation' (or 'Holistay' – a more 'English' version of the new term I prefer) has really come of age. We booked a 'log cabin' (or really more a pine lodge – not as romantic sounding) in Ogwen Bank – just on the Snowdonia National Park boundary a few weeks ago, and had a great stay there last week.

The list of things to look forward to was huge; big mountains, spacious accommodation, a bit of time off work, Elsie's first chance to get on a bike seat, Katie back on the bike for the first time in 2 years… and a visit – all being well – from sister in law Sally – eight months pregnant – with Si and Olly.
The journey – less than 2 hours – is one of the major wins with these UK hols. It's so great to think it's less than two films away (in Lily's car journey measurements) and on opening the door in the holiday hut we knew we'd be on for a great time. The park itself was riddled with semi-wild rabbits – a great bonus for the children, making it a bit more Hobbiton-like.
We had some great trips out; seaside on the Llyn, 'Gypsy Wood' theme park, cycle ride on a very quiet and beautiful cycle path that runs near to the A5 through the old slate quarries, picnicking by a stream with sheep watching on… just lovely holiday memories.
Sally, Si and Olly arrived late on Tuesday after Sally had been given the go-ahead after a scan (a grim pregnancy but all still okay on balance!) and this brought a new dimension for Lily and Elsie, as well as a bit of fun for KT and I.
A bit of inevitable rain was dealt with by a bit of swimming pool fun and a grey day handled by a trip to the GreenWood park. Busy times for all.
The thing about it that I guess we'll look back on most is that Elsie has morphed into a more independent being since starting walking, and was significantly more fun as a result. It's strange how these things shape us… simple things – but she's turning into a 'person' now more rapidly than ever.
Exercise wise it was always going to be a bit of a break, but I managed a fantastic early morning run up Y Garn – my first 3,000 footer for a while – in blissful morning conditions. Didn't see a soul either up or down and was back at the breakfast table for 9 am. Also managed a really rewarding couple of hours out on the road bike (well… the cyclocross bike on the road!) riding a hilly but fast route through Beddgelert and Capel Curig.
A busy holiday – but ultimately refreshing and very relaxing.
Garmin GPS record or the Y Garn run here and the Bike Ride here
Photos here or slideshow here