Out – not with a bang, not with a whimper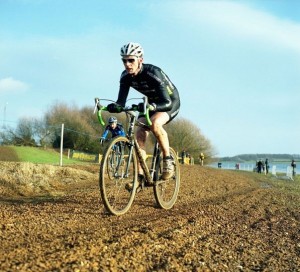 So the 17th January 2010 was the last day I was officially in my 30s. As far as British Cycling was concerned, I was technically still a senior, so founf myself on the start line racing with 'those youngsters' under 40 for the last time in a National series. From about three minutes into the race, it was clear that I'm going to suit being old, as my race deteriorated into a bit of a shambles…
The traffic issues caused by 80 charging cyclists on a course approximately 3m wide on the first lap of a slippy race is always a fun affair – and the further down the grid you are, the more these things become amplified and hence more entertaining. It came to a head for me when I was unintentionally cut up by someone avoiding some slip, crash of something a few riders ahead. The upshot of it all was that I took an awkward sideways swipe at a highly tensioned rope at the side of the course; hammered my leg into a wooden stake, then flipped off the bike over the rops, but somehow still attached to them by my helment strap. I had to take my helmet off before I could even untangle and collect myself, and was now pretty much at the back of the field of 80 riders.
After a semi-satisfying lap of passing people and trying to get things back together without panicking, I was just about settled in when I again cought my handlebars on a rope. This time it was entirely my doing, although I knew nothing about it until I'd landed on the floor having somersaulted off my bike at a fairly high speed. I only lost about 20 seconds with this fall, but it broke my resolve, and from then on it was just a matter of plodding on and pretending I was still racing… my last race as a senior wasn't to be a satisfying result – like every single race I've ridden since September's 3 Peaks Cyclocross.
I'm not feeling too distressed about the way the season went. I'm not the most talented rider out there and can only expect to do well when I really train – and training's just an inconvenient add-on since life with the children and work is so busy. What I end up with is a slightly public slide from grace – I was 21st in the National Trophy series last year and 23rd in the National Champs – this year I haven't even scored a national trophy point – and can't ride the rescheduled champs. It's quite a come down…
But – still – I love it all – I've been doing all of this through my own choice and you have to take the rough with the smooth. Age isn't really much of a factor at all – Nick Craig rode both the senior and the veterans events on Sunday and had stunning rides in the circumstances. I know it's been a bit of a wierd season for training / busy family life PLUS a mix of technical / equipment failures that were largely my fault, but could I truly imaging a smooth cyclocross season? Nah. It's just not right. Roll on September 2010.
Some images below from British Cycling, Billy Reid of TEAM WHEEELBASE and Richard Seipp.