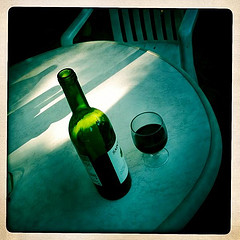 In the early summers of my childhood, my Dad and Mum packed my brother Phil and I, still sleeping, into the back of our family car, with a caravan in tow, and drove us to the south of France each year.   The journeys and holidays were long and packed with some of the strongest memories I'll keep.  Those of us lucky enough to have any Family Holiday as children will always keep those memories, and looking back on this particular branch of the Haygarth family's trip to the Ile de Ré, I know that the beat goes on and on, and as many families do, we've done our own version of the full circle.
With a car packed with everything from bikes to buckets, we lifted the children from their beds at 2:30am and set off to Dover. Elsie proved that despite not knowing what the heck was going on, she could hold a pretty good conversation for a two year old in the dead of night, but we eventually got her settled by Stafford, an hour od so later.  Arriving at Dover a bit blearly eyed and checking onto the ferry was a bit of basic relief. Anything like that carries with it an irritating deadline and the need for a bit of buffer time, but at least we were there now, intact, in time, and in need of medium cappuccino with an extra shot.
The Road to Rouen
Heading into a different country and driving's ace, isn't it. maybe I don't do it enough; that's why it's ace. The journey down there was fast, pretty relaxed, and assisted by the best £2.99 app that anyone can buy (a full France SatNav – by NavMii).  Arriving at the campsite a little later than planned (multi-car pile-up on the Auto-route near Tours) we were met by Phil, Anne, Matthew, Angus and Helen, who'd all been there a few days for a full nine-Haygarth-strong overlap with our holiday.
Ile de Ré: Flipping brill.
The campsite and the whole island lived up to every expectation. Pretty much perfect for children and clean, with friendly staff and a beach and shop just where you need them.  The island is strewn with safe, well used cycle tracks that meant we only went out twice in the car in ten days (Supermarket and a long trip to the Lighthouse at the end of the island).  To go everywhere by bike seemed so easy – for all the family.
Pretty and simple villages pepper the very flat island, and almost all of them have a port of some sort. The markets aren't tacky or over-touristy – they're just good old markets and fine food – particularly fruits de mer and fish were in abundance and utterly stunning.
The beaches were perfect for children. Lots to play with (waves, rockpools, decent sand-castle-sand) and not to hot (reliable Atlantic breeze meant no-one was diving for shade or siesta.)
Fun in the Sun
To spend time with my brother and his family in such informal and un-rushed circumstances was a real treat. To just call in on each other or see the children tottering off together on their bikes to do their own thing was lovely and very valuable.  A couple of mild knees-ups at the tents in the evening also helped us all get a good oiling from the wine.  Don't start me on the wine. Cheaper than water.  What's a guy like me to do?
Managed to get four early morning bike rides in without impacting on the family too.  (Flat stuff's okay for training and riding in France in itself a mini-treat, but I'm glad to be back in sight of a few hills).  Sharing a couple of them with Phil was also lovely, including a killer headwind – memorable in its own way – over the bridge back from La Rochelle on the mainland.
Captured it.
Piccies and Video below (or browse photos here)