Last week it was South Wales. Hard packed sand, sun out, fun riding, great memorable time.
Today, it was West Cumbria. Hard packed sand, sun out, fun riding, great memorable time.
Comparisons end.  Not bikes this week, but horses. A Christmas present from my mum for all four of us was a day riding on the sands. Something we've all wanted to do and talked about for a while. The girls love horses, and Katie is a confident horse rider.  I can generally take or leave them to be honest, in most circumstances, but have always loved the idea of riding somewhere free and wild. It's about the ride…. not about the bike horse.
Somehow (and I can't emphasise this enough), we somehow managed to turn a forecast of full-on, day-long heavy rain into the most fortuitous and frankly shocking 2 hours of sunshine-and-cloud. We'd been spending days preparing for foul weather – we were quite taken aback.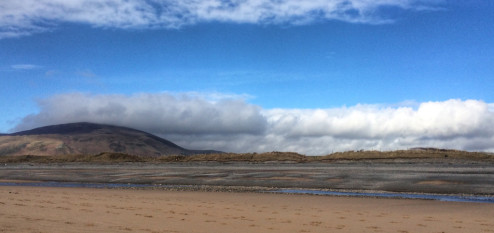 The horse riding centre – Murthwaite Green in Silecroft, was incredibly welcoming. That made a huge difference immediately and our guides – James and Lily – were just lovely. We made our way through the village to the sands overlooked by the lovely slopes of Black Combe (like a chunk of Howgills dropped onto the edge of the Lake District). Immediately, despite not riding a horse for 15 years, I felt so warmly relaxed on my horse, Basil. (Yes, I spoke his name several times as if he was Manuel's pet rat… sorry).
Katie (on Diva), Lily (on Harry) and Elsie (on Moonlight) all settled in really well too.  Once on the sands, those of us with horses that could be bothered had a good canter and even a short gallop – a lovely feeling of release and exhilaration for the horses just as much as us. The whole ting was just lovely. Katie did incredibly well to weather an atrocious bout of tonsillitis, too.
Great day out. Thanks mum.