It was sunny and I was on a beach. That's the short version. When you go to the beach and it's sunny, you have fun. That never changes.
Riding along in a twitching, whittled down bunch of 50, maybe 60 riders after 6km of all-out, pretty flat-out field-thinning, it was a different type of fun at the seaside, though. We'd just covered those 6km in less than 10 minutes – just shy of 24mph avg – and salt was going on to me and out of me in equal measure. My first race in two months and, as usual, tough going.  As this start illustrates.
This was Britain's only (?) proper beach race – the Howies Battle on the Beach. Now in its second year, the 575 places were sold out in less than two days. The first race in 2014 had proven very popular and it's not hard to see why. Based in a tranquil and beatiful maritime forest Country Park, the venue is a step away from any type of riding I've ever known in the UK. Aside from the obviously novel hell of a windswept, pan-flat (but thankfully firm) wide beach, the sandy forest trails had the feel of more Holland off-road than my usual Holcombe off-road.
Riders with names like Maarten, Bram, Kristof and Ramses were up front in that bunch – a reminder that beach racing specialists from the low countries were here with a job to do. This was a serious field of racers.
An eclectic mix of bikes, too. This race incorporated the UK Fatbike championships, so 74 of the riders were on chunky-tyred tanks, and many tanking it along very impressively, too. About 10% of the field rode 'cross bikes and the rest were mountain bikes. A select few on dedicated beach racing machines – like a 'cross bike with 2.1″ tyres and semi-drop bars.
Doing Wales.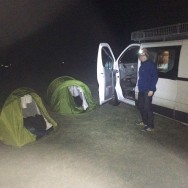 Jason, tired, cold, 2am
In order to get there, we drove the entire length of Wales in a van.  And some roadwork detours. Brill. Jason Miles and I had planned a lift-share and with almost 500 miles round trip, that's a very practical thing. Not only for fuel cash, but the rare pleasure of being able to sit down with someone like minded and talk bike drivel.  The usual family things meant that we were to start our 5 hour journey down at 8:45 in the evening. We crept into the country park's camping area as quietly as a Vauxhall van allows just before 2am and popped the tents up (literally popped them up – man's greatest invention to date) and zipped ourselves into sleeping bags. It was 2°C, there was a ground frost, but we slept, somehow.
Decisions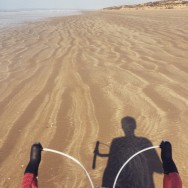 Trying out the 'cross bike on the sand
I'd ridden one lap of the course in the morning, having been in an annoying two-minds about what bike would be right for me. On the one hand, my super-lightened Titus Fireline Evo Ti, complete with rigid forks and carbon wheels was what I'd been preparing myself to ride, with much excitement. As the week prior to the race stayed drier and warmer than everyone thought possible, I started to get nagging doubts that I'd better throw my 'cross bike in. The gorgeous FMB custom tubulars on my shiny Planet X carbon 50s were made for fast terrain like this. Oh…. decisions, decisions. It had to be the 'cross bike.
The race itself
SO, as the race progressed, I rode a great race over the three laps. There was no way I could keep the wheel of the leading 20 or so as they edged off into the woods, but the Guerciotti 'cross bike was very lush and no slouch, even with this 45 year old on board.
The start – pic. c/o Emma Osenton
An irritating 1 min 20 seconds of detour at the start of lap 2 (it transpired some cheeky youngster had moved an arrow!) meant that I lost a load of places I'd fought really hard for. I wasn't alone, and a dozen or so of us took the same detour, but it was very annoying to have to battle on lap 2 in the nightmare-flat-out beach section to eventually latch on to the people you'd already dropped.
The rest was now survival. I'm no endurance rider and this 'cross enthusiast who is very happy with 60 minutes plus one lap was quietly self-satisfied by only slight time loss on the third and final lap. I was glad to get to the line, though.
I'd finished 30th. There was some fast riders there and I was pretty happy with that.
A permanent fixture
As usual, these big events are greater than the sum of the parts. It's the bumping into people you only really know through social media, or spending a bit more time with those you hardly get to see. The whole thing was ace.  I will be back.
Many thanks:
Planet X / On One for the support as always
Matt Page and the A Cycling team – event organising at it's best.
JMC IT team for supplying a hugely practical van, Jason and Emma for great company, and making a 500 mile round trip seem like a local race.
Can't wait until 2016's event and I've packed my bucket and spade already.
More: