I love my cyclocross and above all I still love the 3 Peaks cyclocross – it has a very special status with me for whatever reason. But this year? It's been a bit of a weird journey.  So gone are the days of a special 30 day cleansing and weight loss diet, today I'm eating a Cissy Green's meat pie.
On top of the normal busy-life stuff, 2018 has been abnormally abnormal. My preparation for Sunday's race has been sub-optimal, to slightly under-egg things.
I had a lot of work to do to teach myself to run long days (and nights) over big hills. Endurance stuff comes a bit more naturally to some than others. To me it was difficult and so much so that I had to pretty much give up cycling for the first 6 months of the year (or tolerate ever-niggling injuries if I combines the two sports I loved). Come July, I had to get my head down and teach myself to ride a bike again.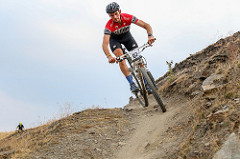 It was lovely to be back on the bike but not pretty. A summer 'cross in Everton where I was way down on speed. A MTB race at Lee Quarry where I was making all sorts of clumsy errors and ended up near last. But I knew it would come if I stuck at it. It just takes hard work and patience. A bit more hard work and a bit more patience every year.
Then came the 'cross season and, at last, things started to look like I was getting somewhere – just in time. I'll be 49 later this season, and to be within spitting distance of 40 year-olds in a 'cross race isn't that bad, especially with a long season ahead.  Three Peaks on the horizon, etc. All going well.
Unknown unknowns
It was just a normal school pick-up afternoon. Been doing this since Lily was in reception in 2007.  We have a tandem these days. I was going to get Elsie and riding along a straight bit of road. I'd done it possibly over a thousand times over the years.
When you're passing parked cars, you generally still need to keep a watchful eye. When their retractable mirrors are 'in', you maybe take a subconscious decision that this car is unoccupied. A bit safer. Sometimes you're just in the wrong place at the wrong time.
It was only the sound that I remember. My ears rang a bit with the bang. I was sat there on the road and cars had stopped. I was looking up the road one direction at a time, and I didn't know where I was. I couldn't work out which way to head to get to school.  "Stay still – don't move".  A man I later found out was called Sam was on the scene instantly. He put my safety first but after 3 mins or so I realised I was able to walk to the pavement. Sam had already called an ambulance by then.
The car owner was also with me. He told me he couldn't see properly before opening his door, because of his retractable mirrors.  He was apologising and looked like a ghost. He was in a mess himself.  His welds on the car door had been wrenched off by mainly my left hand and forearm.  My hand hurt like hell. It all started to piece together now. His door had been hit by a tandem and a Dave at one hell of a pace. It was windy and not only was this strong wind behind Dave, but it was behind the man's car door. By all accounts it must have whipped open.  But I don't remember.
But enough of this. It's a bit gruesome (photos 🙂 ). The ambulance never turned up after 75 minutes so I was driven to hospital and spent 4 hours there getting seen to. Nothing was broken but now, nine days after that and two days before the 3 Peaks, my hand still hurts like hell when holding the handlebars on anything slightly rough, and it's pretty much game-over.
Known unknowns
Except it isn't over. Because this race is once a year and because I love it. And because I have two more days to recover. And because it's once a year. And because it could have been worse. And because of Charlie #Vandercraig. And because I have a really good hand-splint. And because I don't have to do any 'time' to impress anyone.
Known knowns
I'll see you at the 3 Peaks cyclocross on Sunday morning. Wish me luck. I'll be the one mincing on the rough bits.