As you may know, I'm a glass half full type. But we all have our limits.  Yesterday was a tough day. The Three Peaks Cyclocross is always tough. If it wasn't, we'd just ride / run / walk faster until it becomes tough. It's a flipping race. But then, yesterday had its own special place in my memory for extra toughness, but, significantly, extra satisfaction. 
Firstly, let's get the mild celebrations out of the way.
Nothing bad happened to my bike
I finished my 20th race.
It was all pretty respectable.
I need to quickly put this moaning to bed though so bear with me. My left hand – as I'd predicted – was up to the job of getting me round. I'm a lucky lad. If that car door thingie had happened a few days nearer the race it would have simply not been do-able.  As also predicted, it 'just' got me down the descents and the rockier parts. It was not much short of agonising, but I managed to tolerate it. I also learnt a bit about physical pain.
Physical pain from exertion
…. is one thing, and there's always pleasure to be found in the depths of such pain, if you're achieving something.
Physical pain from injuries
… are a bit different. They're not something you can turn off by easing off. But similar to type (1), the 'achieving something' can be the trump card.
So it's the end goal itself that can keep you going sometimes. I'd love to have shut out the pain. Macho stuff suggests it's possible, and to some extent I ground down a good few mm of molars.  But ultimately, I just had to ride like a proper mincer on those descents. Hey ho.
My issues aside, it was a great year, conditions-wise. The two significant road sections were generally as wind-assisted as is possible (considering they face in different directions!) and the ground was really dry, visibility good, etc.
I enjoyed the parts that didn't involve too much hand-action.  I rode near the front on the first part up to Gill Garth because I was in no mood to get brought down by some crash in a pack of 595 starters. Then I eased off and adopted my 'just get round' philosophy pretty easily.
The hand, of course, wasn't needed for the big bike-carries, where you're off the bike for 20 minutes and more, but it seemed daft to exert myself stupidly there, knowing I was just going to get overtaken constantly as soon as I was descending.  As a result,  it was a genuinely nice feeling to take the pressure off myself a bit and immerse myself in the atmosphere of the race.
Another weird by-product of doing a bit more of a 'sauntering' approach, was that I had no twinges of cramp, or any pains like that after. I'm feeling quite chipper this morning.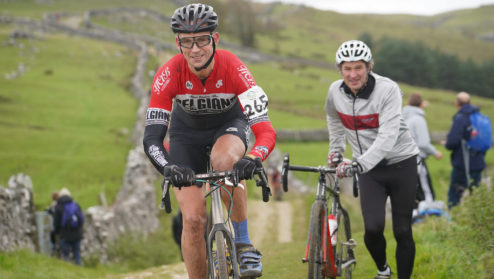 So that was that.  My 20th finish. We even waited about all afternoon for me to receive my special frames print (a carriage clock, if you will, for 3 Peaks 'cross races). But some admin balls-up saw me ignored and I watched the other few people get theirs. Charming!
Goes without saying, I love this race. I love the people racing, supporting, marshalling, the mountain rescue teams, the officials – the whole shebang – and I can't wait for 15 September 2019, and my final crack at the race in my forties, and with two working hands! But once again I am most in debt to the lovely people who help me directly. Katie has been at all but one of my races and as she told Adam Henson on Countryfile in 2006, her day is "…exhausting – I sometimes feel like I've done the race)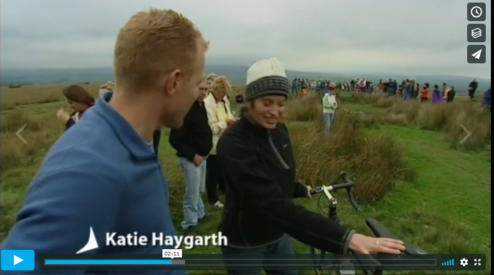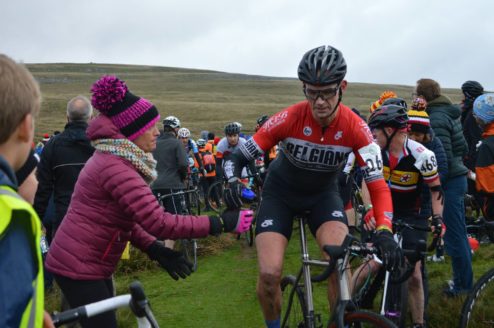 Thanks also in bucket loads to Phil, Anne, Matt, Angus and Helen, and to Lily and Elsie for their role in everything from screaming my name to riding 'just in case' bikes around the Dales.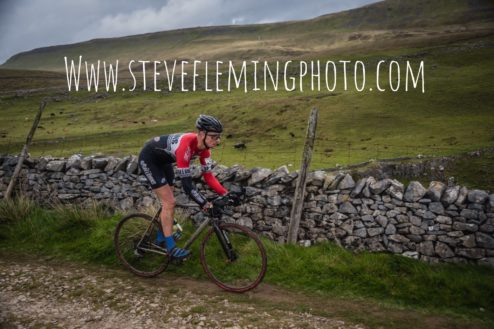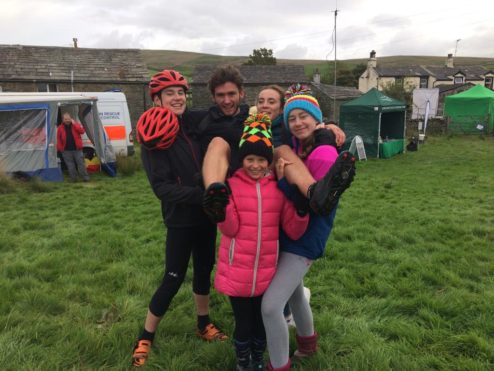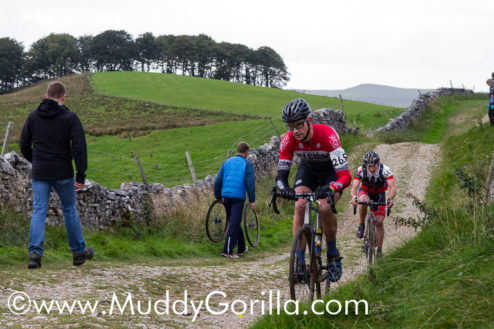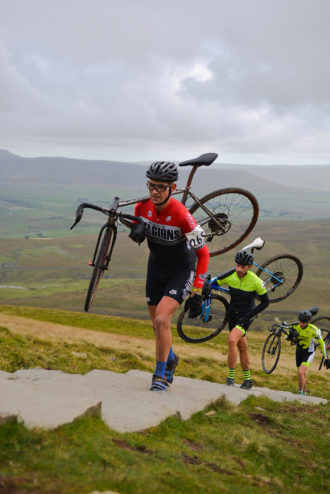 My first 20 3 Peaks finishes!
1995 – 33rd – 3 hrs 49 minutes
1996 – 26th – 3 hrs 37 minutes
1997 – 26th – 3 hrs 35 minutes
1998 – 59th – 3 hrs 57 minutes
     1999 – DNF
2000 – 26th – 3 hrs 34 minutes
     2001 – No race – Foot & Mouth disease
2002 – 31st – 3 hrs 37 minutes
2003 – 39th – 3 hrs 32 minutes
2004 – 20th – 3 hrs 43 minutes
2005 – 26th – 3 hrs 34 minutes
2006 – 15th – 3 hrs 27 minutes
     2007 – No race – Foot & Mouth disease
2008 – 13th – 3 hrs 22 minutes
2009 – 9th – 3 hrs 18 minutes
2010 – 14th – 3 hrs 25 minutes
2011 – 139th – 4 hrs 10 minutes
2012 – 25th – 3hrs 49 minutes
     2013 – DNS
2014 – 25th – 3 hrs 24 minutes
2015 – 34th – 3 hrs 27 minutes
2016 – 43rd – 3 hrs 34 minutes
2017 – 43rd – 3 hrs 37 minutes
2018 – 118th – 3 hrs 47 minutes