Seems to have flown by this year. Kept busy by exercise, workloads, 40th birthdays spread over a few months, and some lovely holidays, the period since the 2009 3 Peaks Cyclocross seems to have flown by. My preparation over the last few weeks has been as obsessive and meticulous as ever (possibly more so… were that possible).
The now-annual-weightloss-panic seems to have gone well. I left things a bit close this year being a full 9 lbs over my 'preferred' weight for lugging a bike over three mountains, and to keep myself in check and help make light of the misery of abstention, I set up my own weightloss blog at the beginning of the month. This strange combination of loner's diary and slimmers world top tips served its purpose and made the process a bit more fun. Lost my 9lbs in good time anyway.
The training's been pretty solid this year. Again, it always seems to be a massive compromise with so much to balance, and very very early morning rides take the place of more ideal preparation of good off-road, on-road, or fell races. It's something I just have to live with. I'm flipping forty, I'm not a contender, and although I love the race, living the life of a professional for six months would, at best, push me up a couple of positions. We work within a framework of what we can do and within that framework, my preparation's been pretty good this year.
The mix of road bike / 'cross bike / mountain bike / running has been slightly different this year (as the graph below shows). I've ridden the road bike a bit more this year than last and the 'cross bike a bit less. The road bike's also been used for hill reps a bit more than last year – you need to train your weaknesses and I'm generally 'dropped' most on climbs. The number of training hours are almost identical, but I feel that my August was a bit stronger this year, so the "work" has been more focused.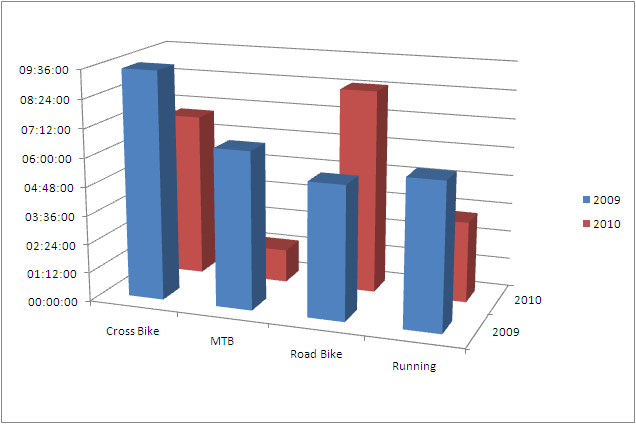 You can't beat a bit of Bully
If there's one thing that means that September has come again to my life, it's a regular training session on Bull Hill. I'm very lucky living on the fringe of open moorland and the northern slope of Bull Hill, an otherwise unremarkable mound on the western fringe of Rossendale, is a superb simulation of the nasty steep grassy incline of Simon Fell (the first and in my opinion hardest climb of the Three Peaks). This year, the Friday lunchtime rides have been great and we've had some good attendance, even from Matthew with no bike but his dog… an interesting new angle.
It's not about the bike
Along with 3 peaks specific training, comes 3 peaks specific bike prep. Each year slight refinements are made. More exact standards, new strategies. This year's headline changes for me are:
Riding it on one bike again for the first time in a few years
Lower gears on the back due to some overdue advancement in ten-speed technology
Shorter stem by 2cm
But with 3 peaks-specific bike prep comes 3 peaks-specific bike problems.  September's a good month for getting annoying mechanicals – hopefully before the race and not in it.  This year:
a broken gear hanger with about ten days to go
TWO tubulars now shown themselves to be unsuitable because of sidewall defects.  These are tyres I'd clung onto all year specifically for this race.  Annoying.
Still, you can only prepare your best.  This year I only have one cyclocross bike (new Cannondales for 2010 / 11 won't be in the country for another fortnight) so it'll be fun to have a grass-roots approach again now that I took the pressure off myself last year with my once-in-a-lifetime top ten 😉
It's not about the snot
The health's been good but I got a scare on Sunday and Monday.  Last year, the week before, I gave myself a thorough kicking at the Grizedale MTB challenge.  3 hrs of steep, hard climbs and at times technical descents on a rigid 29er were great preparation and I make no bones in saying that this year I'm lacking in that type of training.
However, had I got a 'ticket' from the family to go and ride Grizedale this year, fate might have dealt me a nasty blow.  As it turned out, Sunday was very very very very wet, and my reduced training of a 8 mile run ended up in my getting a cold.  No idea what a 3hr bike race might have done.  Shudder to think. The cold's gone now.  Might well have been a lucky escape.
The grand finale
The next two days will be pretty much as last year. Some  very gentle riding / turbo training tomorrow just to keep myself loose, but the tapering (such as it is) is done.  Final Beetroot shake coming up on Saturday.  I'll miss those.
Expect to see me
I'm going to stick my neck out and give you a realistic forecast of results, based on who's racing and how I'm feeling.  There are people there who will beat me hands down, there are people there who will beat me on most days, and I may beat on my good days if they have bad days, and there are people there who… oh – you know what I mean.  I won't go on.
The best place I can finish this year is 10th.  I will be disappointed if I'm below 18th.  I will be gutted but philosophical if I'm lower than 25th.  I will be gutted but entirely unphilosophical and sulky if I'm outside of the top 30.
I will not get a (time) PB this year. It's way too wet.  I have an outside chance of being on the veteran's podium, but expect to be 5th veteran if everyone races to form.
ALL of this, of course, assumes that I have no mechanicals.  Anyone can have mechanicals and punctures, but 99% of them are due to bad preparation, riding on the edge,  or poor equipment choice / set-up.  If any of that happens, I'm the one to blame.