Everyone knows that second place is the first loser.  I'm happy with that.  Three weeks and a day after a general anaesthetic, a night in North Manchester Hospital and a few painful days of 'peeing red', most people would be happy with just riding their bike.  That's why I'm happy as I've been in a long time.  This short page in my cycling book has been a pretty turbulent one but it seems to be creating a happy ending a bit sooner than I'd have thought.

The Velocity crit at Lancaster was in its first year and when I spotted the course pre-entry I knew it was for me.  Tight turns, cobbles and short, draggy climbs.  Nowhere for anyone to sit in.  An aggressive race.  Ace.
I told Alan last week – eleven days after having my kidney stone taken out – that I was going to win the 3rd / 4th cat race.  I don't say that type of thing really.  Maybe in jest sometimes… but I meant it. When the rain came as forecast in near biblical propertions it served only as added glee. The whole tough circuit race just got tougher.
As it transpired, after a fairly frantic journey up to sign on in Lancaster town hall (badly misinterpreted how rain affects cars on motorways, too!) Alan and I rocked up at the start line with nothing in the way of warm up, and just the confidence of experience keeping me happy.  Alan didn't even have that… despite his love of cobbles and generally gnarly stuff, this was his first proper race in a tight-cornered town centre circuit and indeed on the pavé.
The plan to win though, had already fallen at the first hurdle. Seeing my old team mate Steve Clarke there on the start line I knew I'd have my work cut out.  Someone who can also handle a bike and has a lovely smooth pedalling action like Steve was going to be a threat from the start, and as it turned out, although he and I worked to whittle it down to just the two of us, his inevitable attack with three laps to go was inevitable and flawless, and left me happy with second.  We'd dropped everyone else from our wheels and I'd been ditched in an equally convincing fashion by the better rider… but still feeling very chuffed.  And chuffed for Steve.
All weekend I've had the glow of someone who has regained their mojo. It really came back to me the minute I had two working kidneys, but to confirm this to myself by hammering a hard race from the front is a win.  Happy.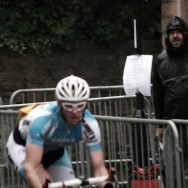 The evening was also made very special by the support of my brother Phil who'd already had a good soaking that day watching the Olympic torch trying to remain lit through Morecambe, and the dual pleasure of having mum pop along to watch the races with Lily (who gladly jumped at the chance of a late night and a pizza).
Some great photos here from originals by Neville Llewellyn. Thank you for the memories.  I sincerely hope for all concerned that the races on a quality, tough circuit like that become a regular fixture, if not the weather we endured.  Here's to 2013.