I often spend time thinking about my local treasures but so rarely spend the time to sit down and write anything.  But today I went a ride with cycling friend Alan Dorrington over Rooley Moor Road and I found the route inspiring enough to speak out.
Over the last couple of years, Rooley Moor Road turned from (in my own world) a lovely non-traffic cycling option (off road tyres only) into something a bit more significant.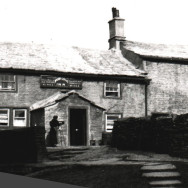 Turning into a 'road' from what was previously a footpath in the Cotton Famine [ref], the cobbled setts were laid by people looking for a better future, and at the time, it would have been a relative highway.  Far from it now, the 1,500 foot summit is once again the reserve of the few.  Mainly for mountain bikes, walkers and the odd off-road motoring enthusiast, Rooley Moor Road is a historic treasure. Rooley Moor is a fairly recent name, from the 18th Century, when a Mr Rowley (corrupted later to Rooley) settled on what was to become the Old Moorcock Inn [ref] – remnants of which can be seen to the trained eye near the top of the route. It's an amazing thought – looking into the past – that there would have been enough passing trade to warrant an Inn here … just amazing.  I for one would have had a pint there earlier this evening when we passed. Sod the segment.
In a way what captures you is the remoteness.  Despite being a road – albeit an unpassable one by most cars – all you need to do is look left or right at any moment to realise how much utter tranquillity there is either side of the high highway. Looking into Manchester, Oldham  and Rochdale behind you, you would be forgiven for thinking you were in the Dales or remoter parts of the north Pennines for a moment. Just out of the smoke, but a million miles away.
As a cyclocross enthusiast and general cycling enthusiast, it's a lovely chance to ride a really long stretch of cobbled setts and a huge climb to boot. With a total ascent (from the Rochdale start) of 1066 feet over 3.5 miles, it's not by any means the steepest thing in the area, but, boy, does it go on and on? It's a tough challenge and there could be no easy ascent of a climb like that unless you were travelling very, very slowly. It's rough, tough, and invites those who can press on.
I don't ride it that much and had a chance of an extended evening ride so suggested this. It was Alan's first experience of the full Rooley Moor Road and needless to say he was in fair awe at the combination of scale, tranquillity, and cobbliness. What a lucky guy I am to live so close to such a special route.
Moor reading (geddit?)