My immediate reaction was that my performance was lacklustre. 43rd position after such a struggle of a day is certainly nothing to write home about. But the story of the day is (still, sorry) how much I love this race. The passion for it just doesn't seem to diminish as it throws punches at me but sucks me harder in like an abusive relationship.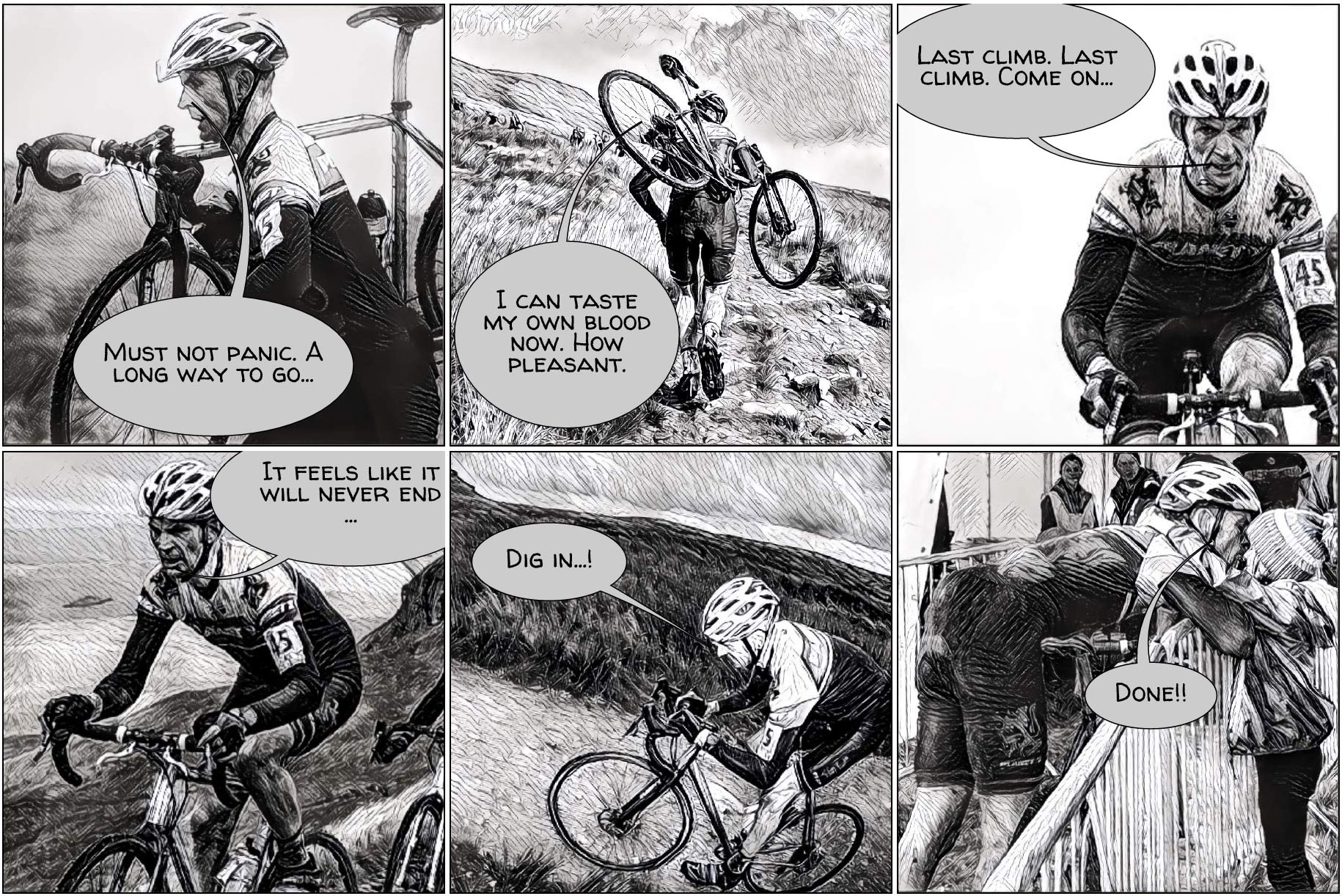 The day was not fantastic in meteorological conditions. That seemed to be the preoccupation of most of the 650 people starting the race on probably the worst Sunday morning for a few months. Heavy rain showers made the roads soaking, and on the 3.3 mile road section to Gill Garth we all got thoroughly wet (climbing 253 feet in 3.3 miles at 21.3 mph average… you almost didn't notice!) Not that wet is a huge problem – it affects everyone in the field the same, but it wasn't the most comfortable of mornings. As usual, it's nice to make the turn off the road and get the real race started.
Uphill struggle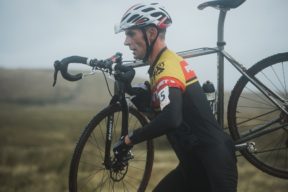 My perennial problem of, basically, not being a very good climber on a bike kicked in straight away and as usual I tried not to let that take control of me. I just ploughed on up the interminable Simon Fell which gradually reduces everyone to a gasping walk and evens the field somewhat. Even so, despite pushing on the best I could, I knew I was down on both position and time, reaching the checkpoint in the mist-shrowded Ingleborough about 3 minutes slower than last year's time, and generally down on the average times I could expect to get to that first check point. My position bore that out too, but I never try to worry about that … I can't control how fast or slow everyone else is shouldering a bike up a mountain.
As usual, I managed to make up a load of places on the descent of Ingleborough to Cold Cotes. I don't know why or how, but it's what I do.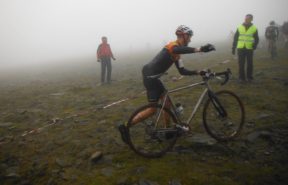 I didn't make to get near my own 2008 record for the 2.7 mile / 1500 foot drop on a mixture of bogs and rocky footpath, but it was certainly one of my more flowing and intelligent descents of the hill. Passing 23 people, I was in a fairly respectable 34th by the time we hit the checkpoint and I changed my bike / grabbed a bottle from Phil and Angus.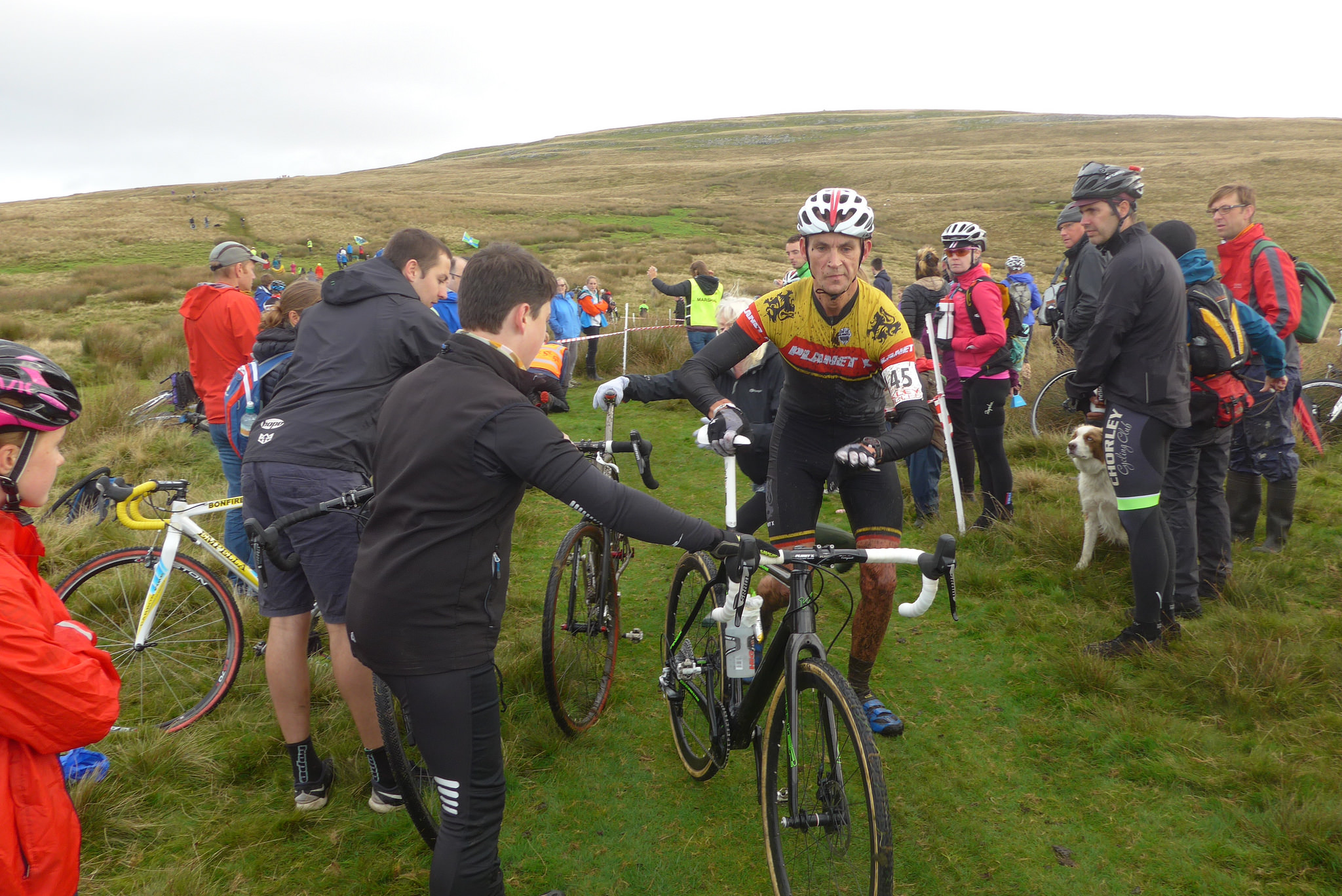 @DaveHaygarth caught you getting a bit of air into Cold Cotes. Check your chain on landing, in 2nd pic pic.twitter.com/Wn4cz6MIpT

— Rab Austen (@RabAusten) September 26, 2016
In retrospect, things were not destined to get any better for me after this. The position gains I made started to ebb away on the inclines – both on-bike and on-foot after Ingleborough and although losses weren't dramatic, things ebbed away bit by bit. I held things together well on the steep climb up Whernside carrying the bike but again, it was when I remounted the bike that I simply had watts available than everyone around me.
By the desperately stormy / hailstoney summit I'd slipped a sickening ten places and was 44th.  For the second time, the descent paid me back and I managed to reclaim 9 of the positions. I'd fought like hell but still was scrapping only for something around the top 30. This, from being in the top ten a handful of years ago … 🙁
@DaveHaygarth I was that one man fan club at Ribblehead. Hope you found my eloquent cry of "Come on Dave!" helpful pic.twitter.com/Y6yFOHQVpM

— Chris Meads (@chrismeadsphoto) September 25, 2016
Bad to worse
Although I'd held things together, avoided cramp, eaten well, stayed on the bike, and kept free of mechanical problems, what was about to happen was a bit of a kick in the teeth. Punctures in the 3 Peaks are an accepted hazard, but an almighty bang on the road section between Ribblehead and Horton.  On the ROAD section. Sickening. Flat rear tyre, but luckily a tubular, so it stayed on the rim as, yet again, riders slipped past me one by one. What was really going on here though was not a tale of bad luck. The three minutes or so that riding on this flat tyre cost me over 2.8 miles were a bit of a smokescreen (okay – and £60 for the tyre!)  Having metaphorically fought the dragon on all the climbs of the race so far, I knew that Penyghent was going to slay me. It was a matter of time.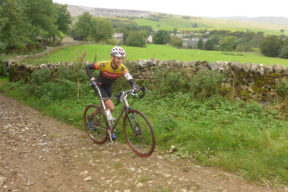 And so, after the brief humiliation of having to push the flat-tyred bike up the first very rideable couple of hundred yards up Horton Scar Lane, I finally reached the spare bike, handed to me by nephew Angus. I thought to myself be careful what you wish for here, as it dawned on me that now I was on a sound bike, I had to pedal up a bloody mountain. Hey ho – just keep on keeping on.
All told, the Penyghent climb was not too bad for me. I never expected to overtake people and it was always going to be a case of limiting losses, and I managed to probably only lose about 6 places up the long climb. The advantage here is that the vast majority of riders are equally knackered here, and although I had little choice about the pace I could keep, I managed to be sensible about where I mounted and dismounted, and avoided the dreaded cramp.   On the descent, despite my big gains on Ingleborough and Whernside downhill, there was a sudden realisation that I was scrapping about for such minor positions that it didn't really matter, and I was better to stay safe.  Nobody remembers whether you're 38th or 48th, so I took my foot off the gas a bit and enjoyed a no-pressure descent.  Obviously, that involved overtaking loads of people, but just less than I would have normally 🙂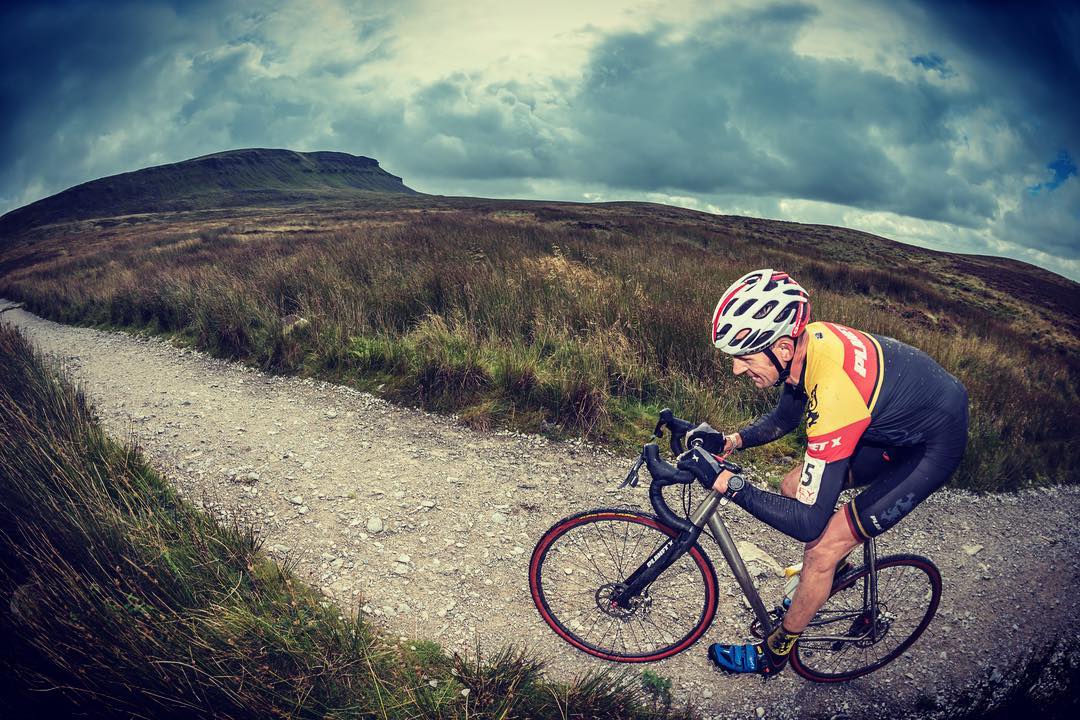 My slightly deflated feeling at what I suspect is basically the ageing process taking its toll on me could be seen as slightly harsh. 3 hrs 34 on a pretty grim day is not a bad time, puncture etc taken into account, but despite the inability to push it out on the climbs, it felt like there was more that could have been done. Looking back now (very early Monday morning…) it's possibly not the case. It's a hard, hard race, and tough things happen, but ultimately its beauty is in how damned hard it is.  I'll be back.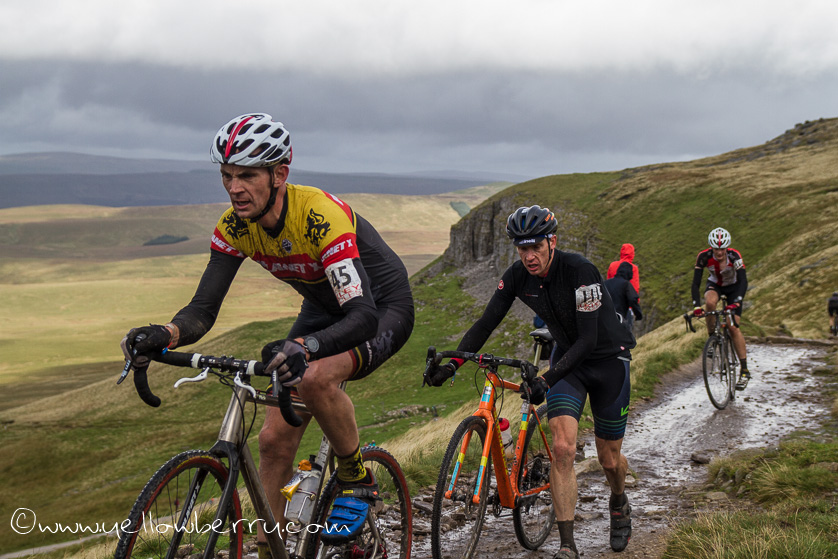 Many thanks for all my help to and support to
Katie (and the girls)
Phil, Angus & Anne
Planet X Bikes
The organisers and marshalls of the 3 Peaks Cyclocross
the photographers (Steve Fleming, Chris Meads, Adrian Nicholls / SportSunday, Mark Barker, Phil Haygarth, Yellowberry.com, Jack Chevell / CXHANDBOOK)