Sometimes you can just get sucked along in the momentum of things. Sometimes it's just exciting to get outside of your comfort zone. I do a lot of sport, but it's rarely outside of my comfort zone, and even less so as I get older. Until this month.
It's a strange one for me as a self-confessed cyclocross addict, but I took almost the whole month of December away from competing on a bike. A classic month in the sport of cyclocross, it was strange to step back a bit. Things like the regional championships are always great to ride, plus… it's the muddiest, most cyclocross time of the cyclocross season.
But my highest aim of the 2016-17 season has been to repeat my win in the North West Cyclocross Association league. The veteran league is the largest in the country – with some 212 members and races peaking at 181 in one of the events. I'm really chuffed that after 9 of the 11 rounds, the stats showed that I'd secured my second win in two years for Carnac / Planet X, and with two races remaining, I can step back a bit. Because something else came along for December.
My friend Alan Dorrington has been doing a lot of running this year and talked of the 256 Challenge. He'd heard about it and was planning to do it to raise much needed funds for the M3 Project – helping to make sure that vulnerable people between 16 and 25 can be housed safely and securely, and enabling them to stay "on the rails" during a crucial time of their lives. The challenge is to run every day in December and cover 256 miles in a torturous pattern. For the first 16 days of December you run the miles that correspond to the day. 1 mile on the 1st, 2 on the 2nd, 3 on the 3rd and so on to the 16th with a chunky 16 miles, then on the 17th you go back down – 15, 14, 13, 12 and so on to a final 1 mile run on New Years Eve. And a well earned rest!
I decided to take it on because, as I said, I just got allured by something so hard. Yes, I can run okay and have run quite a bit in 2016, but we are talking a max of 20 miles in any week. Maybe 25 at peak. Normally less than 15. So this was different. With no days available to recover, and a 100-mile week in the middle, the challenge is nasty. Very nasty.
Anyway… I got there. The runs from 11 miles (on the 11th December) right through to the 9 miles (on the 23rd December) were all nasty and so, so hard in their own way. I didn't tell the world at the time about my two bunions, and I withheld as much as I could from moaning about a hideously swollen right hip that actually changed colour at one point. I'd expected injuries and niggles, and they came. But I am so lucky that none of them stopped me, even though they did an incredibly good job of grinding me down.
Dean Pointer (from Norwich) and Jason Miles (cycling mate from Prestwich) both also undertook the challenge after I'd announced I'd run with Alan – brill gearing to the fundraising. (Sadly Jason had to step down on the 9th with one of those 'can't even walk' injuries).
Photos and activity links below. It's been one heck of a journey and I will never forget some of the highs and lows. As Dean said, it was:
like a cross between Forrest Gump and Ground Hog Day
That about sums it up.
What it's all for
Key memories and findings
Running with friends made any pain go away, every single time.  I ran with Katie, Lily (and Elsie managed to be a cycle outrider on one of the 14 milers), Alan (twice), Steve (on the nasty 16 miler), Matthew (twice), Carl and Harvey.
Ibruprofen gel is superb.  Never had cause to use it before.
The difference between 18 hours recovery and 22 hours recovery can be immense.  The body continues to heal if you give it time.
Fell is way, way more enjoyable than pavement. (No shit, Sherlock)
Head torches are useless in the fog. You just run into white rather than into black
Running on pavements is rubbish apart from on Christmas Day when the roads are blissfully quiet
I ran a few more miles.  267.1 miles in total. Some were just slightly longer runs, others were opt-in 'extras'
26,984 ft of ascent makes that not far off an Everest
1 day, 17 hours and 5 minutes of running.  Makes me wonder what I did the other 29 days 5 hours and 55 minutes. There was Christmas, I suppose.
Along the way
One cyclo-cross race happened (27th December)
Two of the runs were races (Cross-country race on the 3rd Dec – 29th out of 180 runners, then Whinberry Naze Dash fell race on the 26th December – 11th out of 214)
I made my first ever (and probably last!) Strava Art on the 29th – planned and executed early that morning because I'd run out of ideas for new routes by then!
Aside from the Cross Country race, I did no 'laps' – all of the runs were loops or routes of their own with no repetition or circuits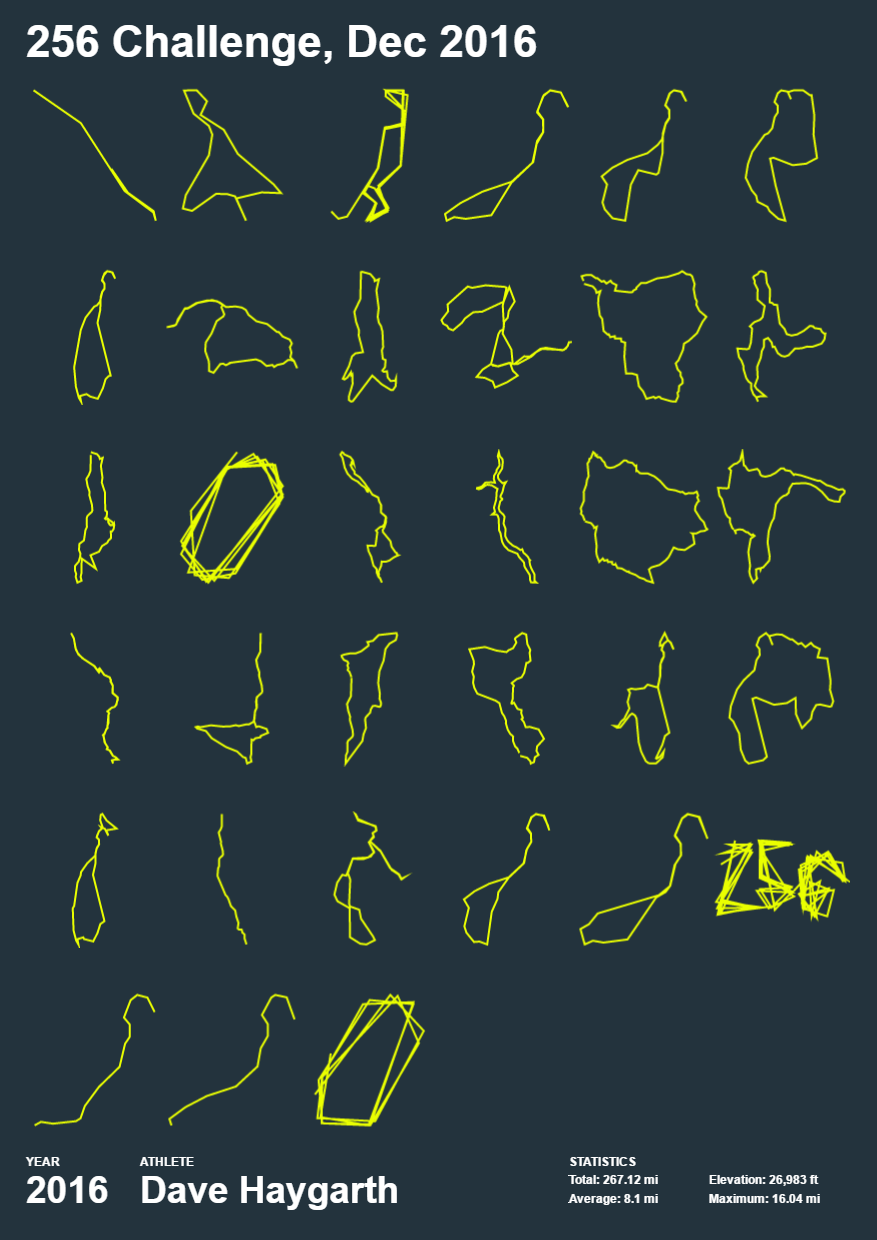 1

2

3

4

5

6

7

8

9

10

11

12

13

14

15

16

15

14

13

12

11

10

9

8

7

6

5

4

3

2

1