Another new country ticked off for Katie and me, and for the first time, us four Haygarths all did a new country at the same time. I'm not sure what my expectations of Croatia were beforehand, to be honest, but they were surpassed. A lovely country.
Bi-Village
We stayed at a very well developed and well catered-for camping village just a short walk from the coastal town of Fažana. (Yes. It had a hilarous name, too) Just a few miles conveniently north of the Istrian main port (and airport!) of Pula, we had very little travel time or hassle to worry about. The first experience for me glamping in a "tent" with a solid floor, balcony, shower and toilet… air conditioning… even a dishwasher. Okay – it's just a house with cotton walls.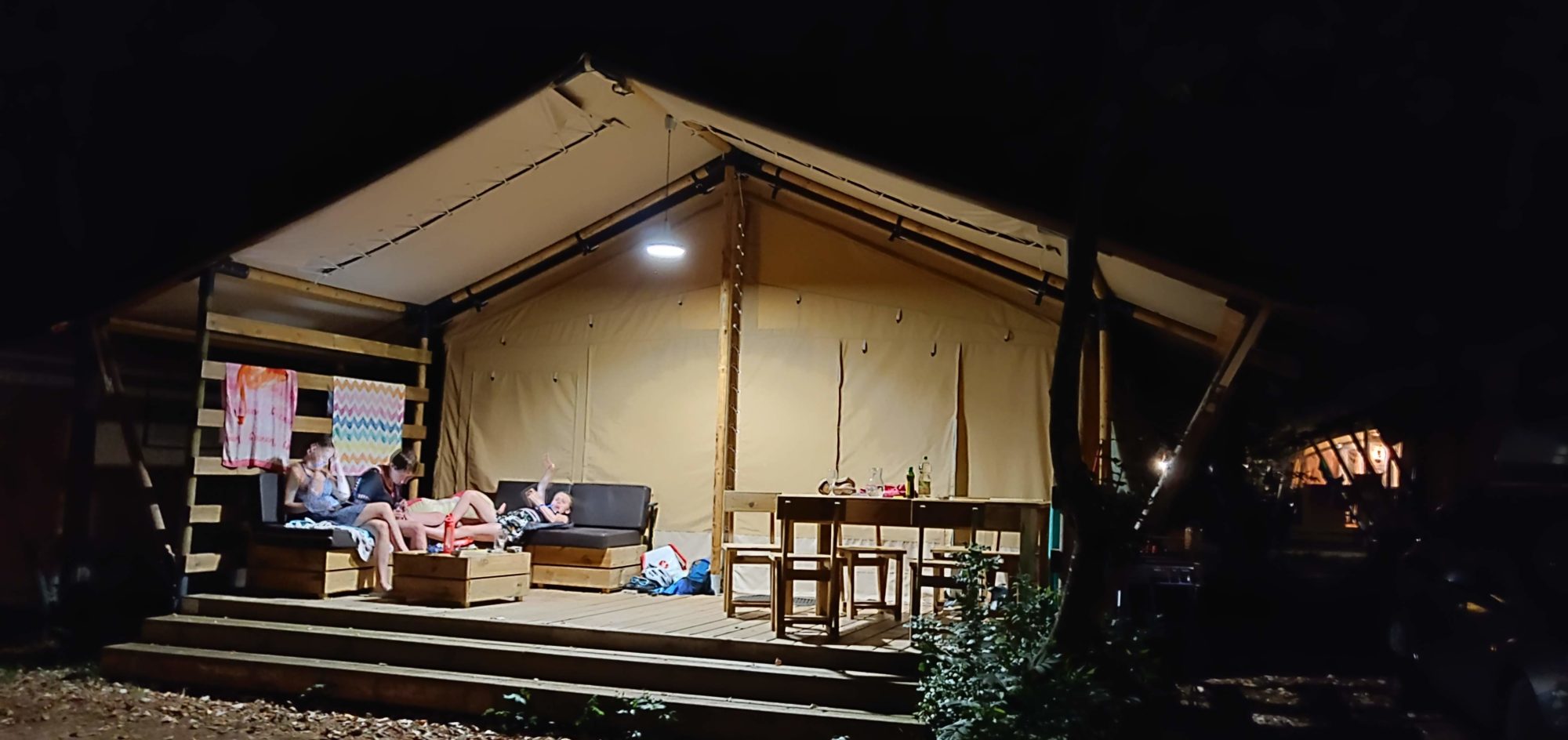 We seemed to have a lovely mix of beach, pool, walking, and decent activities for young and old. The girls went parascending, there was a huge inflatable thing to play on on the beach, and countless amusements at the camping village.
Bike, Village
I took my bike too, as I just love riding away from home. To spend an hour or so exercising before everyone wakes up is now pretty much my holiday routine – I enjoy it and it's good that nothing eats into the day.
So I got to know the surrounding area and get off the beaten track immediately. It also helps get a sense of place and context. Immediately inland, it's a densely low-level wooded area with what I'd describe as light agriculture, mainly centered around olive oil production. Very beautiful but understated, with tidy villages and towns. Steeped in Roman history, this part of Croatia is all but Italian, really. (The Pizzas were lovely, and incredibly reasonable)
Midway through the 11 days away, we hired a car. The plan was to spend time chilling out a bit before starting to roam about and explore, but on balance, I think we should have got it after 3 or 4 days. The family were getting itchy feet. (Not me – I'd seen lots on my bike!)… The chance to see a bit more was a good change, and we visited a few lovely spots (Rabac, Rovinj in particular) that helped us get a bit more feel for Istria. It also made us grateful for where we'd chosen though… there seemed to be a bit more crowded / med-style busy feel to some honey pots around there. We'd been lucky.
Constant Craven
As these things sometimes happen, there was a "KATE!", "DAVE!" sound in the airport on the way out. Friends Lewis and Wendy (Craven) and the girls had also, by the weirdest of small-world coincidences, they too had booked the same flights out and back (though lucky for them, not the same resort), and so we agreed to meet up mid-week at a water park. A day of good fun (and cyclocross-based intense discussions) ensued, and we got to spend more time with some friends from Ramsbottom than we have spent in many a year. Lovely!
Trips
We also managed to see the lovely Brijuni Islands national park by boat. The lovely limestone made for some great diving too, and watching the hungry fish snap at bread like piranhas was exciting, if a little unsettling, too.
The incredibly roman city of Pula (smallish, 65,000 population) was a delight, but our memory of that will be the storm that hit us there. We went from it being a lovely wander through picturesque and historical Adriatic city to semi apocalyptic chaos. Yes, we've seen these Mediterranean storms once or twice before – they're normal and expected from time to time. But this was special. The taxi driver said he'd never seen anything like it. Trees down, floods, dining tables and very heavy parasols strewn across the lovely Piazzas – and a lot of shocked tourists sheltering in shops. Then, nothing. It just passed, and it all went nice again.
Media explosion
A gazillian unsorted photos here
The traditional holiday vid edit below. These always seem a bit boring straight after, but their value grows when we start to look back in years ahead !