21 today.
I turned a corner last year in the 3 Peaks cyclocross. Getting my hand smashed in by a car door less than a couple of weeks prior to the 2018 race forced me to make peace with the race, and get round it at a much more manageable pace. It was the first time that I allowed people to ride past me and just allowed myself to absorb the race and the atmosphere that bit more that I had done in the previous 19 editions I'd finished.
This year though, was the best of both worlds. A coming of age for my 21st. I somehow managed to squeeze every ounce of whatever energy I had out of my body without totally breaking down. I had a 100% clear run in terms of mechanicals and with no 'offs' at all, I can safely say that, at the age of 'very quickly approaching 50′, I could not have finished any faster than I did. It was, dare I say, perfect.
Break it down
I finished 58th in 3 hrs 35 finish time – quite a way down on my fastest time. That's okay and to be expected. My cycling strength isn't the same as it used to be and I'm, fine with that. But being 17 minutes off my fastest ever finish on what was a quite soggy day was a bit of a result for me.
Slugging my way up Ingleborough in as best I could manage a position of 85th, I enjoyed a return to descending properly in this race (after last year) and made up 22 positions on those around me, taking the soggy and boggy drop down to Cold Cotes smoothly. Arms already sore, I relished the lovely chance to freewheel a bit topping out at 42mph whilst one-handed, taking down a drink, was one of those things you just take in your stride in this race.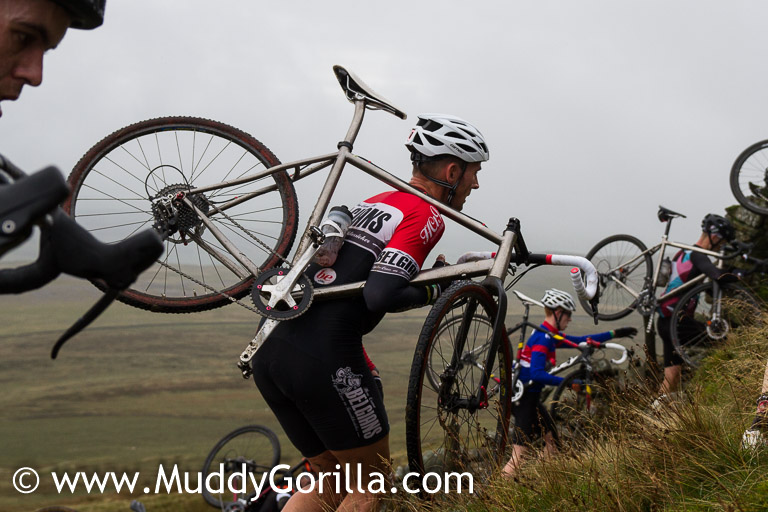 But the road sections exposed my biggest weakness. I generally can't chuck out the watts these days at that sort of level and so I was careful not to blow myself to bits trying to stay with people I couldn't. The same really applied on the long climb to Whernside. I was careful not to panic and go too deep for too long. Walking uphill with a bike on your shoulder at your functional threshold is a weird thing. I was glad of the heart rate monitor to advise me that even another 2 beats more and I'd start to suffer and have to pay myself back. 68th by the summit of Whernside – losing 14 positions since Cold Cotes, but I knew there was another tough descent coming up … Dave-land.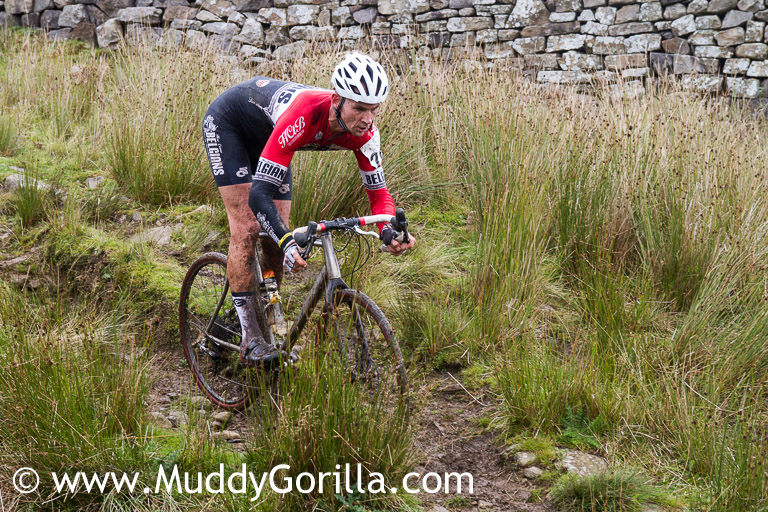 Back up to 58th by Ribblehead, I managed to team up for most of the largely downhill road section to Horton with friends and NW rivals Adrian Lawrence and Phil Simcock. But it was clear as I gulped down my drink and gel that my legs were going to pop on the little raise in the road after Selside. True to form, they did, and I had to roll into Horton about 20 seconds down on them.
I managed to keep the legs ticking over on the climb of Penyghent. Dismounting as the steep final pull up to the finger post I seem to do a little earlier each year. I've experimented by using an even smaller gear but ultimately, when you get down to walking speed, you may as well walk! By the new-ish steps at the final summit section, the thighs cramped on every step. But it was the same for everyone else and I'd done this enough times to know that you just need to get on with it! (And, sorry to repeat myself, but there was (yet) another tough descent coming up – return to Dave-land.)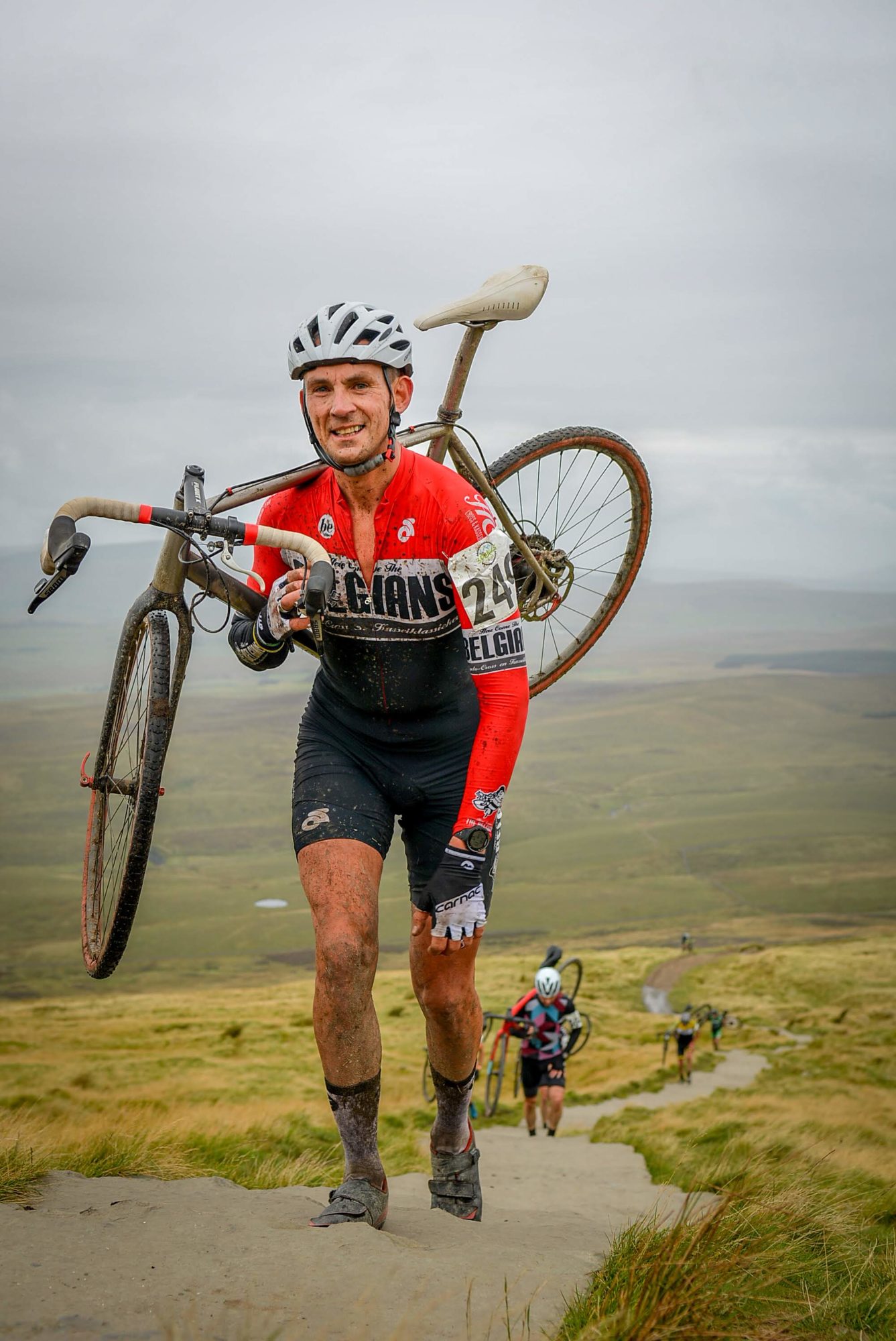 I've never yet had a clean run at the descent down Penyghent that was introduced 3 events ago – with a different route off the top. 2017 was on a flat tyre, and 2018's bandaged hand meant descending properly was off the cards. This year, I just loved the feeling of letting go. Only to be matched by Adrian Lawrence who I almost caught at the top part but stayed a level 10 seconds behind all the way down the faster slopes, the descent was really fast. It's also as frightening as hell, with riders walking up on their limit, on one side of the track, and you descending the other, also on your limit. Somehow, it want by safely. Using the term loosely.
The final road stretch was another killer but thankfully, no chance of anyone behind in sight to catch me. I rolled over the line in 58th and was happy. Done. Totally done. Done in. Done for.
Greater things
I just love immersing myself in the atmosphere after this race. The craic in the bunkhouse when you're getting showered off. The thousands of tales people have afterwards. The generous cakes from Jo Allen. The pats on the back, the discussion about the minor details with everyone. But this was a different year, for a couple of reasons.
Following her recent foot surgery, it was my first year there I can remember without Katie standing by helping. Odd to be there without that. Because Katie was at home, Lily also stayed in solidarity. It was just Elsie and me leaving home in the morning. (She was almost as excited as I was).
We met brother Phil, his family and my mum. They were going to be my helpers today. And the bigger picture for me was that my nephew Angus was taking part in his first 3 Peaks at the age of 16. Every 3 peaks is memorable. This was very different.
Because I'd managed to stay out of trouble with the bike, I only relied on the support crew on the day for drinks at the usual places. Elsie was managing the team well (…!) and I was able to leave them a little less stressed than I have had to leave them on many occasions. But Angus wasn't enjoying such good fortune. This race is cruel – anyone who has done it more than once will know that you ride your luck, but have to deal with the poor luck, too. A broken mech half way up Penyghent put paid to Angus' hopes of a podium place but he dealt with the delays with maturity and serenity. When I saw him after the finish, he was full of all the healthy enthusiasm that the race brings and none of the morose misery that he could have been forgiven for releasing.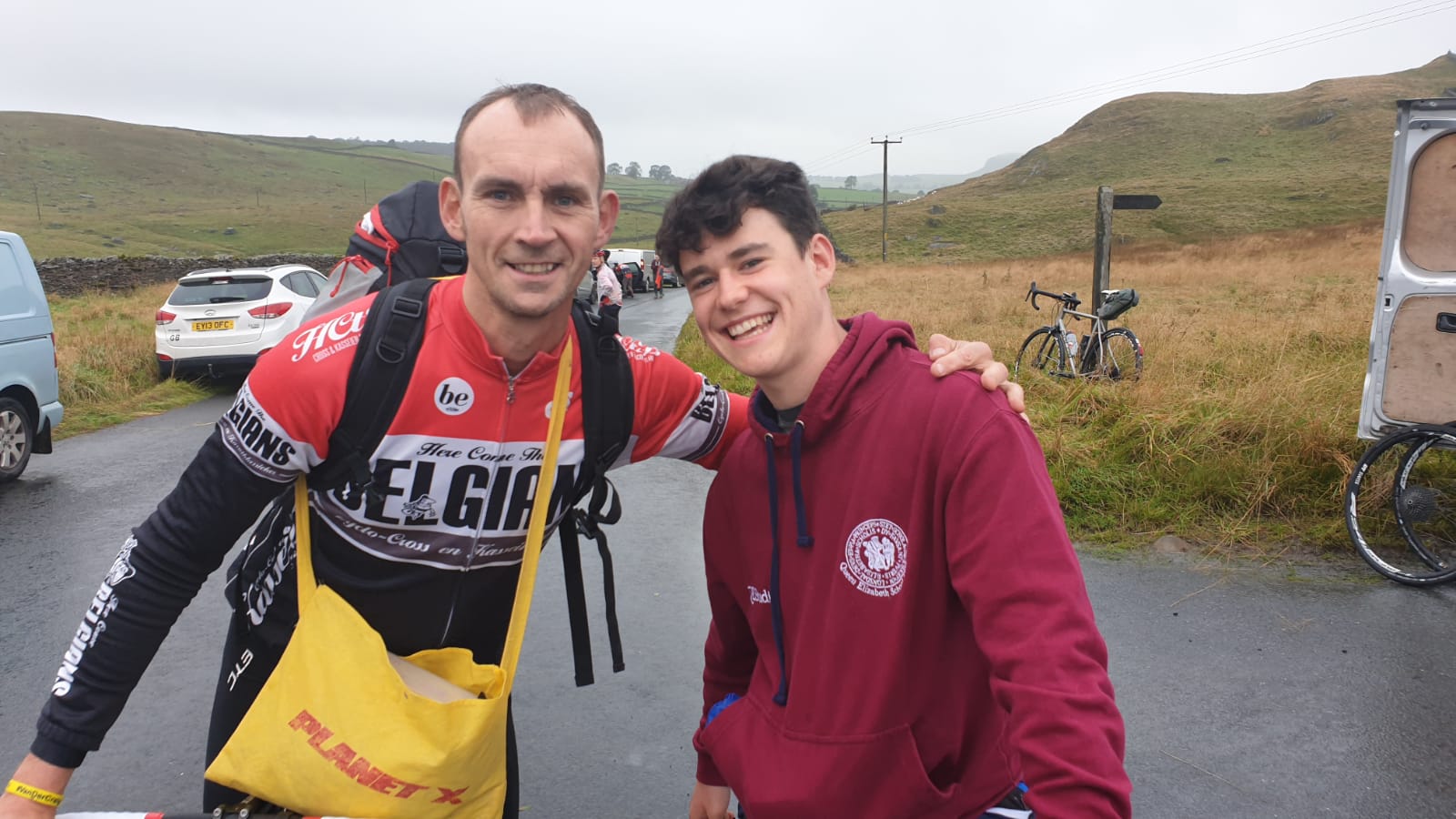 But the highlight of may day has to be a real feeling of humble pride at the presentations after the race. My 20th completion last year should have been marked by the presentation of a framed etching, but because of admin cock-ups, I was forced to wait another year. The picture I was given was not only a lovely bit of artwork, but was based on a photo of yours truly from 2009. Double-whammy.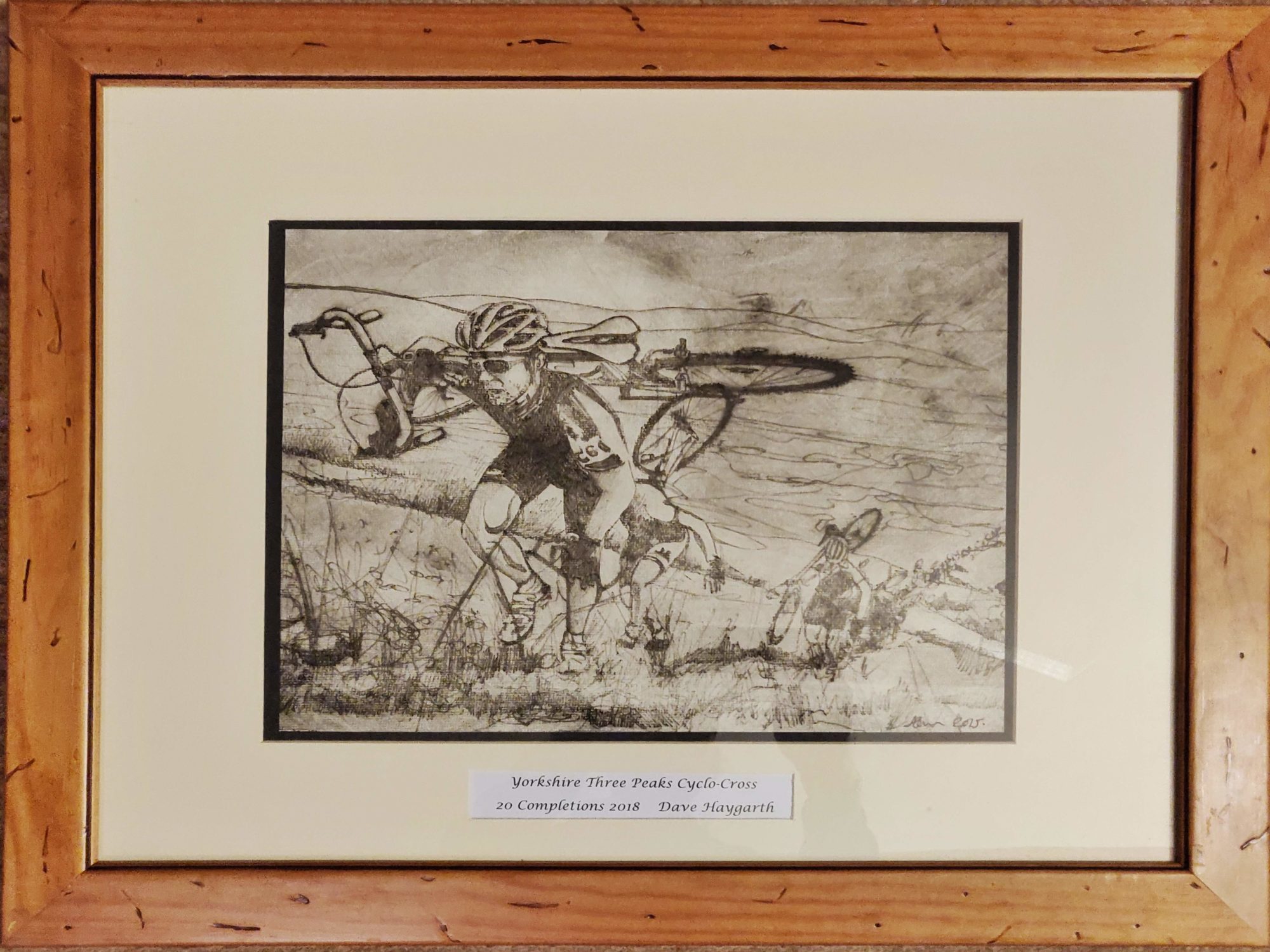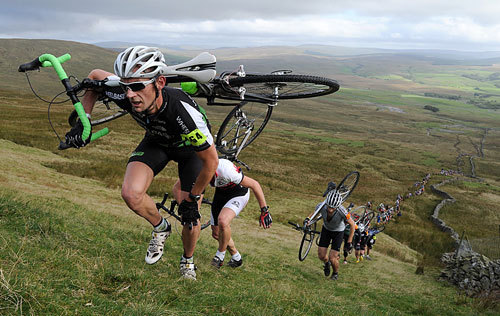 Here Come the Belgians also managed to take 3rd in the veterans team prize, although one had gone home by the podium time.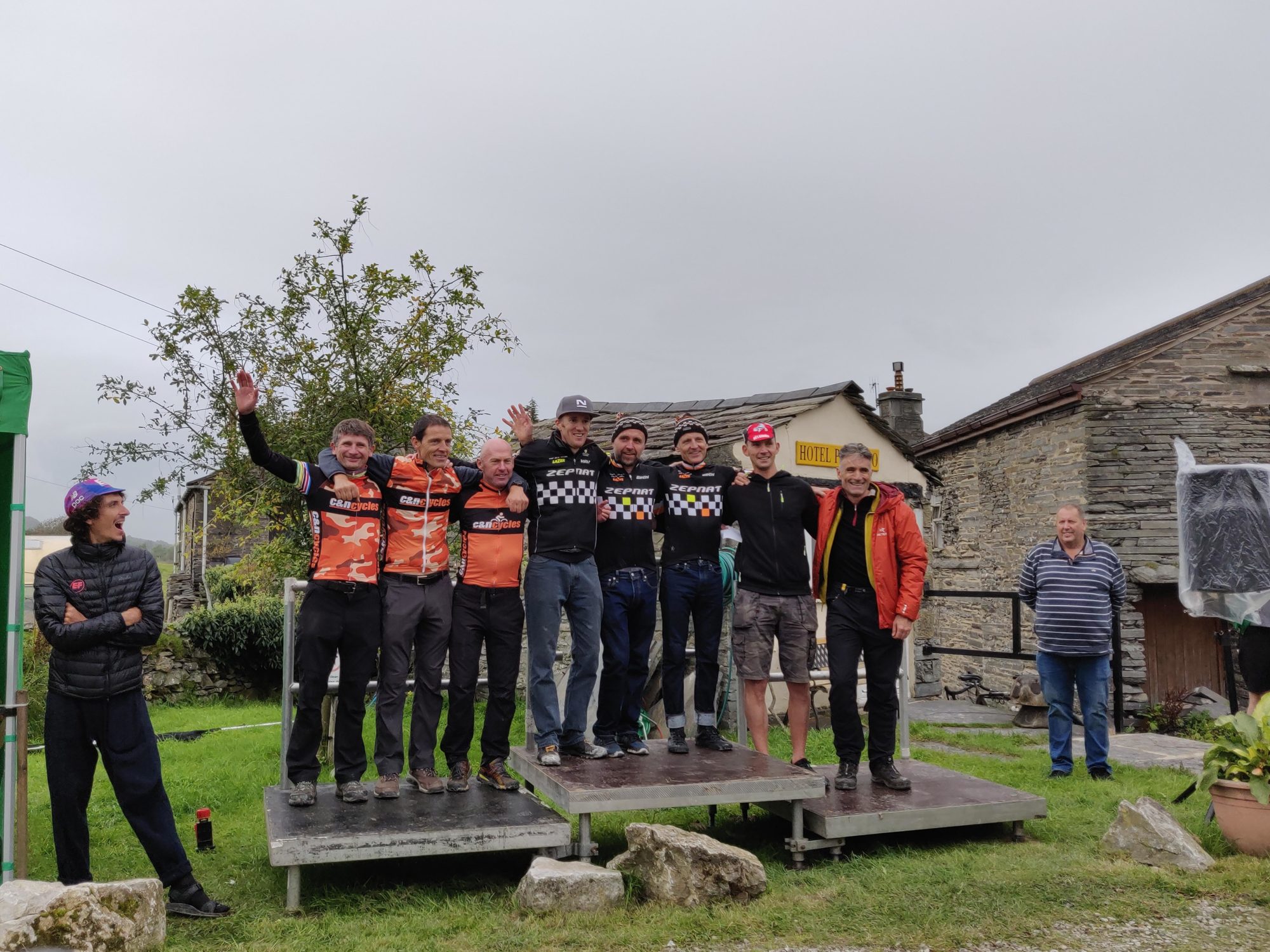 And to cap it all, I was presented with a lovely bottle of Talisker scotch as a special award and thanks for the archiving and recording I've done through the years on the 3 Peaks blog – a touching gift.
Afterwards, we made it to Phil and Anne's for some Shepherd's pie, then on to see in-laws Bill and Jean, who were also sadly absent this time round.
Elsie was so tired she cleaned her teeth with her fingers in the van on the way home so that she could get straight into bed. She was asleep 5 minutes later.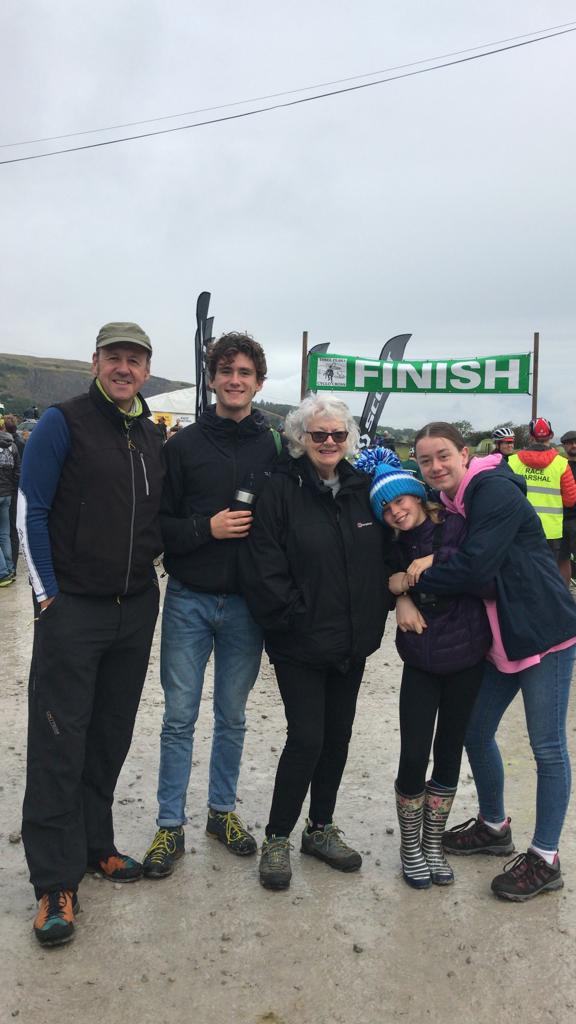 THANK YOU
Mark and all the organisers and officials at the 3 Peaks Cyclocross
Elsie, Phil, Matt, Anne, Helen and Mum
All the Here Come the Belgians guys and particularly Jo for the lovely cake yet again
All the fab people who cheered all the way round. Too many to name – but I hear it and it helps!
The photographers – with notable mention to Chris Meads and Patrick Frost