It's great catching up with old friends.  Sometimes it goes far too long between seeing friends.  It's hard enough to co-ordinate good time together with people who live a few miles down the road in these busy days of raising children, let alone people who emigrate to Vancouver.  But just like last October when I met up with Hamish and Bobby, it just reminded how simple it is to slip straight back into conversation with someone you really know.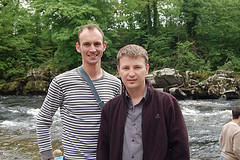 Seeing Ben and Beth for the first time since we said goodbye in 1995 was a joy.  Their children – Albert and Owen were lovely and it brings such a great dimension to seeing how people are really ploughing through life.  We had a great few hours just meandering about Kirkby Lonsdale and eating way too much at mum's house.
I really hope that the next time we meet up it will be in Vancouver. We're due another trip across the atlantic and in a couple of years – when Elsie's a bit more travel-proof – we really must get on with it.
Lots of pics of the whole weekend here.