I've written a bit before here about how mountain biking is a lovely antidote to the routine of training for road and cyclocross racing.  It's a busy life and with a lot to pack in (read:compromise), a direct consequence is that bike time is training or racing time.  I tend to ride criteriums in the summer but have had the nice distraction of a few summer 'cross races this season.  Still, in many ways, it's much the same deal. You have an hour or so to train, so it's outside, 3-4 seconds of warm-up, then go "gggrrrrrrraaaaaaaaarrrrrrggghhhhhhhhhh" (or something similar) for an hour, back home, in the shower, back to work / children / those other things.
So it is mountain biking that brings me my distraction and the highest pleasure-per-effort levels. No average speeds to chase, not much worry about headwinds, traffic, etc. There's a great simplicity to it, and if you're not in a rush, it brings some lovely warm rewards.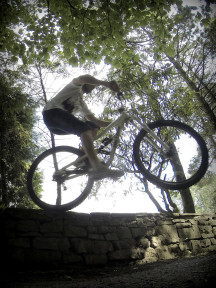 So… when a good morning is put in the diary for a good ride and catch-up with close friend Matthew, I intend to make the most of it. If I'm going for leisure, relaxation and fun on the bike, then let's do this properly. Step into the light, On One Codeine.
This leisure-centre of a bicycle is still in its prototype stage but built with "big stuff" in mind, it was always going to be a very fun ride at the rather mature but still fun Gisburn Forest bike trails. Many of the formerly great bits at Gisburn are a bit fatigued these days, and with trail centres' tendencies to attract funding for new stuff (rather than unattractive maintenance of old stuff), the bumpy bits are a bit bumpier and rockier than you might like them.
With 29″ wheels and the gigantic, Smorgasbord tyres thicker than a circular Yorkie, 128mm of rear travel and about that up front, the Codeine was not going to struggle with any amount of gnarl that you wanted to throw at it. And if it did, you just drop the seatpost. I'm not an expert with full suspension bikes and have only ridden a couple, but it was obvious that this is a tank of a bike. Crashing it would be tricky, in a way. Its rather Brantish 31.8mm stem means that it flicks about much better than a 67° head angle bike should. All this fun / soft / bouncy stuff comes at a cost, of course, and climbing is for the patient. You stay in one position and the bike just goes uphill. It's a bit like a ski lift. With all that traction going on, you don't have to pick your line, but you'll need to not be in any sort of rush. You can spend the time still going 'wow' from the previous descent.
'No Production date is currently planned', so the one I was kindly lent by On One is going to illude you, for now, if you want one. But in the middle of a busy, racing, training life, Codeine brought me a remedy from an ailment I didn't realise I had.