I've never read The Tale of Two Cities but that incredibly well-known opening line from a novel sums up my 2015 3 Peaks.
Okay – it wasn't quite the worst of times – far from it – but when things are going really well, it seems to emphasise the problems when they come.  And they came.  But more on that later.  I wanted to gather thoughts whilst fresh in my head as usual.  The next few days will be absorbed with the 3 Peaks just like the previous few weeks have been, but it's good to write these things down whilst they're fresh on my mind. 
Build-up
You never stop learning and tweaking. I got things really right this year in the few days before and particularly on the morning itself. Giving my breakfast a full extra hour to settle in my stomach meant that I didn't start with all my blood in my stomach, busy digesting. The weather on the day was just absolutely stunning – hardly a breath of wind and crisp, clear skies. The stat machine told me that the neutralised road section was the fastest we'd ever ridden it.  I stayed in the top 20 or so here without too much hassle and when we turned off at Gill Garth onto the proper hills, we'd averaged 23.1 mph – uphill – on knobbly tyres. Gulp.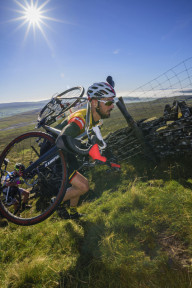 What happened next was remarkable only by its going to plan.  The toughest climb in cycling (let's not kid ourselves) is normally a fight for me to stop people flying past me, but this year it just sort of happened. People didn't flood past me and the total climb to the summit of Ingleborough was 50 seconds faster than I'd ever done it – in 17 events, and at the not-so-tender age of 45. I was incredibly relived all the way up.  I even made time for a two second glance over my shoulder and down the long string of riders ascending Simon Fell with a gorgeous cloud inversion in the lower end of the Ribble Valley – it almost choked me up – one of the most beautiful things I have seen. Not that it all went swimmingly – I had a rare over-the-bars in a bog near the summit and dropped my chain several times on the descent of Ingleborough, but I was definitely there or thereabouts and feeling really happy.
Consolidating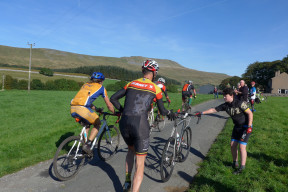 The road section was its usual formation of alliances and I'd got to the ascent of Whernside feeling comfortable and started the climb at a good pace. It's so easy to push yourself into the red on that climb.  The grade and length mean that bits you might normally want to jog are best done at a fast walk.  I dropped a few places, but gained a few on others on the slopes, and looked forward to my specialism – the descent.
Dealing with it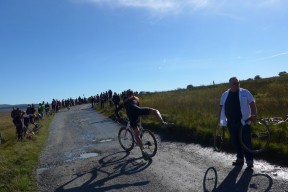 But that's as good as it got for 2015.  The descent of the north side of Whernside went well and I picked off half a dozen riders, but as I crossed the stile at the top of the faster track over Blea Moor, I felt a soft back tyre. It was flat in 20 seconds and then two minutes later my front was flat.  These are the same tyres and wheels that I rode in 2012 on the same mountain descent and at the same pressure, but I suspect the lightly drier year had meant that I'd taken a couple of risks too many and the slams against the rocks had got the better of them.
The next 10 minutes were quite demoralising. Like my tyres, my bubble had burst.  Positions I'd fought so hard to claim just frittered away as rider after rider belted past.  My efforts to keep momentum on a gravelly track with two flat tyres were pathetic. I was having to run even the smallest rise and the cringe-rendering sound of a bike clattering over rocks with no air in the tyres made me feel sick to the gut.
Flinging my bike into the side as a somehow eventually reached the spare bike at Ribblehead, I continued on, but having lost a load of time and places, my head had started to go, and it took a while to get back on it.
Get back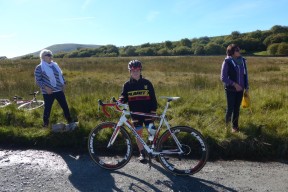 So, from heading towards a nudge at the top 20, I was now forty something-th, and so aghast that I only really made time for a quick swig of fluid on the important road section down to Horton. That was a daft error and shows how things compound when the lid comes off. I hit the Penyghent climb full of the wrong type of adrenaline and more bad news was waiting round the corner.  I saw Alan for planned bike-change.  It turned out that my skirmish over the bars on Ingleborough had caused a bit of bruising to either shifter or cable housing and I was down to two gears – Big Ring or Little Ring.  Luckily, on Penyghent, that's not as poor a choice as it sounds. I was able to spin in my bottom gear when I needed to, and up it a little to the big ring when I needed a bit more speed and things flattened out.  But I wasn't making any headway even into the riders who'd been way behind me on Whernisde – and I took a slightly-too-late gel and drink to try and put things right.
My normal descending resumed on the sublime On One Pickenflick Penyghent and I was able to belt down in double-fast time – my fastest ever – and get back to the last road section with my confidence restored. The legs had other ideas though, and twinges of cramp every time I tried to push on – or ease off – meant that one speed only was possible.
Although I caught a couple on the last stretch, they somehow managed to dib before me and time-recording nuances and buraucracy meant that I seem to have lost a further place at the finish.  But it had already gone in reality, over an hour earlier. I wasn't to be satisfied by the 2015 Three Peaks even though I, somehow, loved every second of it.  Square that one up.
I can't thank the people who have helped me enough.  I get emotional thinking about how important the team of helpers is. Thank you, (in alphabetical order…!)
Alan (helper)
Angus (helper)
Anne (Helping the helpers)
Elsie (Cheerleader)
Katie (Helper / just everything)
Lily (Cake)
Margaret (Being Mum)
Phil (Helper)
Planet X Bikes (Bikes and clothing)
Thank you, too, for the photos generously provided by those people credited. Main pic: Ady Nichols / SportSunday