With immense sadness but such intense happy memories, we have said goodbye to our lovely Elvis today. Dogs are special, close family members and their relationships are deeply family-centered, so I'll keep this short and sweet, like the blondie himself.
Elvis came into our lives in 2001 as a beautiful puppy (…find me someone who doesn't think Labrador puppies are beautiful?!) at a time when we were trying to start our own (human) family.  By the time Lily came along, Elvis was a year-old, fully grown teen-dog, and was lovely to have around.  We'd just moved up to Lancashire at that time and I started running on the moors round here a lot – something that was made a little more meaningful and a lot less lonely with a dog.  He'd come back looking like a pint of Guinness sometimes, and get a good hosing off. He'd moult like crazy after that too… his blonde h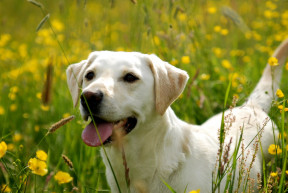 airs somehow producing more floor-hair than you could see on his body.
He's been a stoic and reliable family pet, looking after the girls, sleeping outside by their prams as they had daytime naps, and panting persistently by the cooker every time any meat of any description was being prepared. He had some great family holidays, particularly the coastal ones where he spent most of the available time soaked, and pulling rock after rock from river and sea, for reasons best known to himself.
Elvis had one of those puppy faces. Right up until his body started to age he showed no age in his face. Blonde hair hides grey and besides, his eyes gave off a permanent "where are we going next? Let's go!" look.
Elvis came to us as a gift – from Fiona, to whom we're eternally grateful for over 14 years of indescribable love and pleasure. Born Blue Suede Boy in Heighington, Co. Durham on 22nd July 2001 and died on 18th November 2015, aged roughly 82, depending on which dog-age calculator you look at.
Some photos here on Flickr and a short selection of fairly random videos below.
Elvis has left the building.