As days to remember go, I've trumped most of them yesterday.
All thanks to my lovely friend Richard Hannaford – someone who has been in my life since preschool days – I got to see The Wedding Present play live last night.
Okay… so that's not a very big deal… I've seen them probably 30 times over the years since I first saw them in Coventry, 1988. From headlining festivals to packing out the 200 capacity Trades Hall in Hebden Bridge – a band I've followed and watched grow, change, move forward, but a band that have always been right at the heart of what I love in music.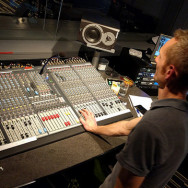 But watching the band play live to an audience of:
me
Marc Riley (another hero …)
Richard
the Producer
the Production Assistant
… well, let's just say that it felt like a pretty exclusive live audience.
Richard works as a studio manager at the BBC in Media City, you see. Mingling with stars and being generally humble about it is just what he does.  But as he works on Marc Riley's show quite frequently, he'd been put on a watching brief about The Wedding Present as he knew they were my fave.  We hastily arranged for me to come and sit in the studio as Richard's guest and a treat ensued. Meeting the band was in itself pleasant but I find these things mildly awkward and embarrassing to be honest.  Nobody wants to see a 45 year old man fawning, so pleasant conversation was made and I didn't intrude on their space too much. Besides, I could sense a few (natural) nerves that come to even seasoned live performers before a live session broadcast around the world. It was nice to meet Doris, too – Dave Gedge's dog.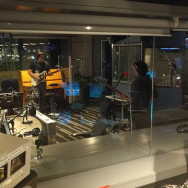 When the actual show started, it was great to watch Richard kick into his relaxed but very in control professional work. Marc Riley started the show with Dancin Days by Led Zeppelin and The Wedding Present covered the Bond theme You Only Live Twice. It was like this was made for me.  Pinching myself?  Bruised from it.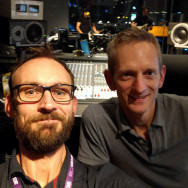 Aside from all that, it is just good to catch up with old mates too.  Like most busy family and work infested people, times for being with friends seems indulgent and a luxury and to see Richard was a treat in itself. But that will come along more than once in a lifetime, I trust. Yesterday was a day to remember.
Full set of photos below