Still loving 'cross in my 48th year. Also loving the transition of the love from me to Elsie. She's just completed her second season of a full league in the North West. 
Elsie
Elsie's first season as an under 10 went brilliantly. She started out – one of the youngest in the field – at Hoghton Tower for round 1, and was not in brilliantt shape. She was going through a dreadful bout of Echzema and was deeply uncomfortable and self-conscious. The race somehow helped to show her that things were going on outside of that Echzema and as soon as she started she looked her own, aggressive but relaxed racing self. It was also her first race on drop 'bars and she looked very at home.
As the season progressed, she started to move up the field, and after a couple of 4th places in the girls she soon started to make 3rd place her own, and even took a fab 2nd place at a muddy race in Northwich
By the season's end (a little earlier than expected thanks to getting her leg in plaster messing about at home!!) she'd secured enough average points to make it 3rd overall in the series. With another year left as an under 10 and the older ones moving up, she'll be the girl to beat next year. Exciting!
Dad
My own season was a similar struggle in terms of progressing from September through to the end of January.  Round 1 of the series exposed me a bit. The cruel new circuit at Hoghton Tower had the type of slow, long climb that I really don't get on with.  Others made hay whilst I was down to 4th and not too happy in the first race defending my 2015-16 title.
Things started to look up though the week after in my local Rossendale race, where I knew the course was more up my street. On lap 2 I took a flyer on the run-up and although I'd like to say I never looked back, I did look back and saw a gap that steadied at about 30 seconds. I got my first win and it came with a bunch of relief!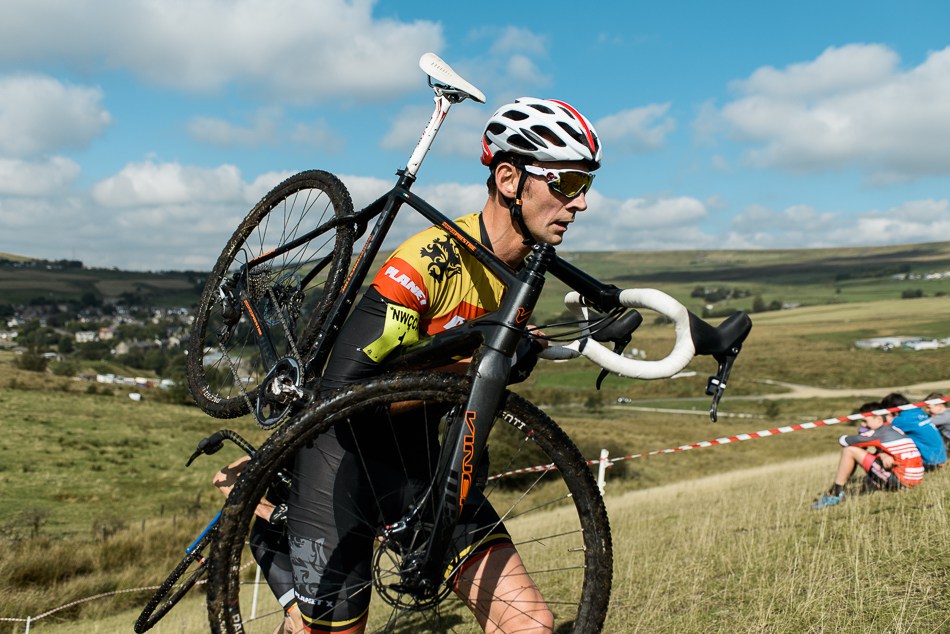 My 3 Peaks was not a stellar day – never felt comfortable all day as I blogged at the time. I do love that race so much and am happy to forgive it for handing out a bad day to me.
The following few races ebbed and flowed. A wonderful, messy course at Westmorland Show Ground was an enjoyable high, albeit a reminder that Rob Jebb can thrash the pants off me without even trying.
Pic: Dan MonaghanAn incredibly dry autumn gave the Bolton, Bebington and Heaton Park events such an unfamiliar feel and did not suit my own style of racing. Not able to shake off riders left me exposed to sprints and a few 2ns and 3rd places left me frustrated after being strong through the races. Bolton in particular was the tightest finish I've ever been in in cyclocross and it was a matter of a couple of inches that separated me from Rich Haughton. Onwards and upwards.
Eventually, the rain came and mud brought another win – probably my most enjoyable win for a while – at Northwich. I felt good all day long and had none of the labouring I'd seemed to have at the two Otterspool events.   Again, it was stretching people on lap 2 and pressing on through the muddy sections that suited me.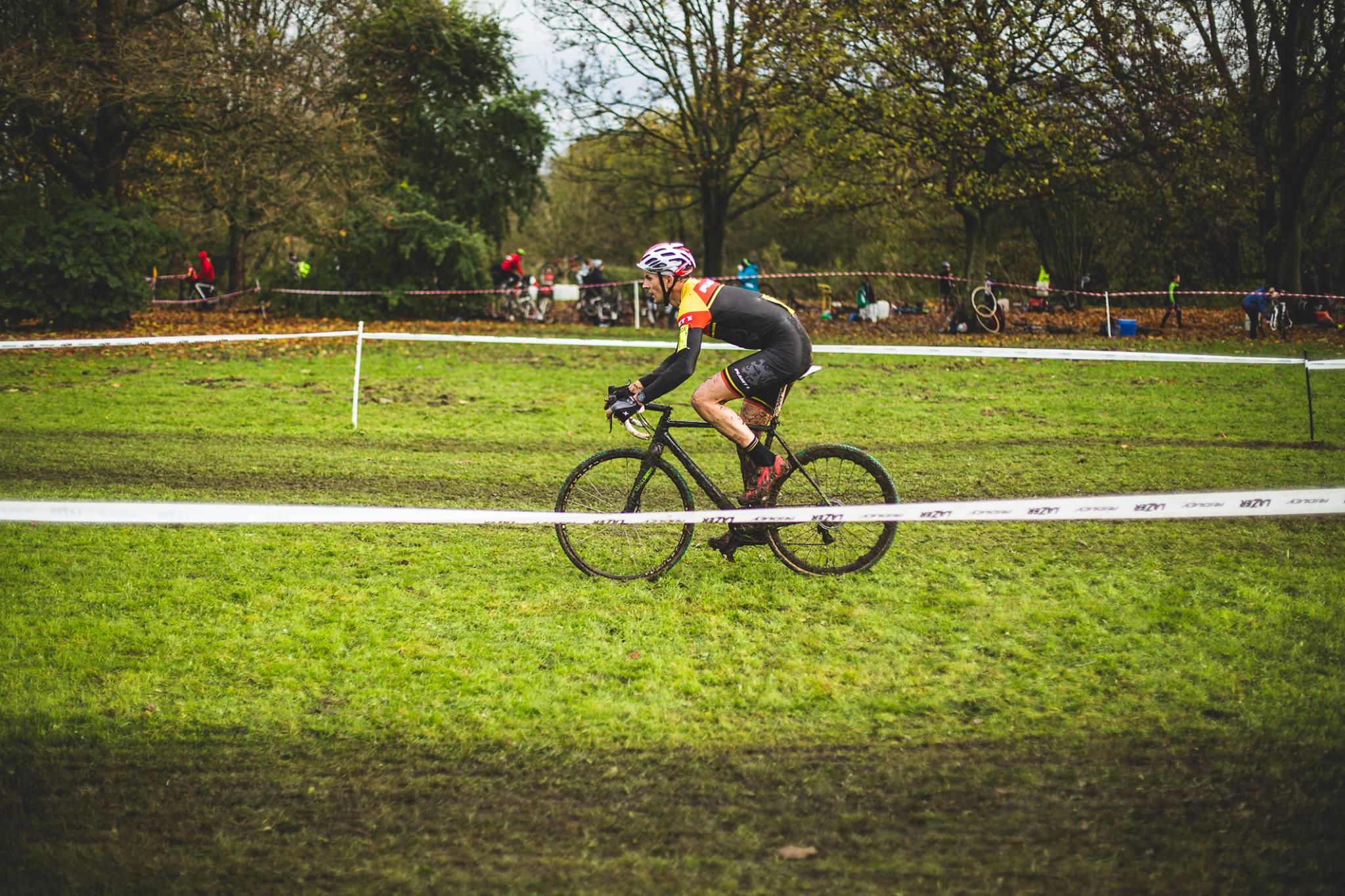 The last two races on the short NWCCA series were both equally enjoyable. Another win at Stadt Moers (and my first there after competing on and off at the venue since 2005) was incredibly smooth. I led the field on lap 1 and rode steadily away, increasing my gap until it was comfortable and around the minute mark. The Macclesfield Supacross was its usual enjoyable event. Bathed as I was in running by then (throughout December) it was just so lovely to get back on the bike. 6th place was nothing to write home about but sort of expected. The series was done with and I'd again won both the Veterans and V45 leagues in the North West.
Now the fun parts followed …
Although the National Cyclocross Championships may not sound like pure fun – it came with a complete lack of pressure for me. I wanted to do well for my sponsors and indeed for myself.  There was even a sense of not wanting to let myself down in front of an audience of many people who knew me, but ultimately, I felt little pressure and just wanted to enjoy the occasion. Having not ridden any National Trophy races this year (opting to try and squeeze a bit of family time in to a busy season racing the regional league), I was untested really at this level.  My national ranking gave me 17th place on the start grid and ultimately that proved to be a working system as I rode my guts out to take 17th place. Very happy with that.
I suddenly felt like it was all revved up and nowhere to go as the season seemed to abruptly end.  I needed to do something about that and realised that the next two weekends were free in the "home" calendar, so headed east to my sponsor's home county of Yorkshire. I raced there in the final two events of their season at Ilkley (4th) and Wentworth Hall (6th) – on two very different but really testing courses. A lovely way to wind down before cleaning off the gear and preparing for spring and summer – my off season and hopefully the chance to do a few different things.
Big thanks go to
My sponsor Planet X Bikes – for the two lovely Viner Super Prestige machines I raced on
Islabikes for helping Elsie to find her bike Nirvana on the lovely Beinn 24
My family for supporting me and having the patience !
Alan and Craig for just superb pit help at the nationals
| | | |
| --- | --- | --- |
| Date | Event  | Position |
| 22-Jan-17 | Cystic Fibrosis Cross/Yorkshire Points Round 9 (Veteran Men 40-49) | 2 |
| 22-Jan-17 | Cystic Fibrosis Cross/Yorkshire Points Round 9 (Senior Men) | 5 |
| 15-Jan-17 | Ilkley Cycling Club Cyclo Cross (Senior Men) | 4 |
| 15-Jan-17 | Ilkley Cycling Club Cyclo Cross (Veteran Men 40+) | 3 |
| 07-Jan-17 | HSBC UK Cyclo-Cross National Championships (Veteran Men 40-49 Championship) | 17 |
| 27-Dec-16 | Macclesfield Wheelers Supacross (Veteran Men 40-49) | 6 |
| 27-Nov-16 | Stadt Moers Cyclo-Cross (Veteran Men 40-49) | 1 |
| 19-Nov-16 | Geoff Bewley Memorial Cross (Veteran Men 40-49) | 3 |
| 12-Nov-16 | Weaver Valley CC Cyclo-Cross (Veteran men, 40 to 49) | 1 |
| 29-Oct-16 | East Liverpool Wheelers Cross (Veteran Men 40+) | 5 |
| 23-Oct-16 | North West Cyclo-Cross League Round 6 (Veteran Men 40-49) | 3 |
| 16-Oct-16 | Manchester Wheelers Cyclo-Cross (Veteran Men 40+) | 2 |
| 02-Oct-16 | Horwich Humdinger/North West Cyclo-Cross League Round 3 (Veteran Men 40-49) | 2 |
| 01-Oct-16 | WHEELBASE Castelli Cross (Veteran Men 40-49 Race ) | 3 |
| 25-Sep-16 | 3 Peaks Cyclo-Cross (Three Peaks Cyclo-Cross ) | 43 |
| 25-Sep-16 | 3 Peaks Cyclo-Cross (Veteran Men 40+) | 19 |
| 18-Sep-16 | Rossendale Cyclo-Cross (Veteran Men 40+) | 1 |
| 10-Sep-16 | Red Rose Olympic Hoghton Tower Cross (Vet Men 40+) | 4 |