Third year on the trot. Each time you learn and refine. It just gets better and better until you reach a pinnacle like this.   The 2017 family holiday took from our 2015 and 2016 trips and improved it…
The basics 

Get to Dover in the night time and they all sleep / avoid crappy traffic
No more than 4 hr drives on holiday, each with a break half way
Beach, for the children

The ideal mix

Vastly different locations /  villages
Some long stays, some shorter
Rivers and gorges are dramatic and ace
Mountains are even acer
And a city
And even a theme park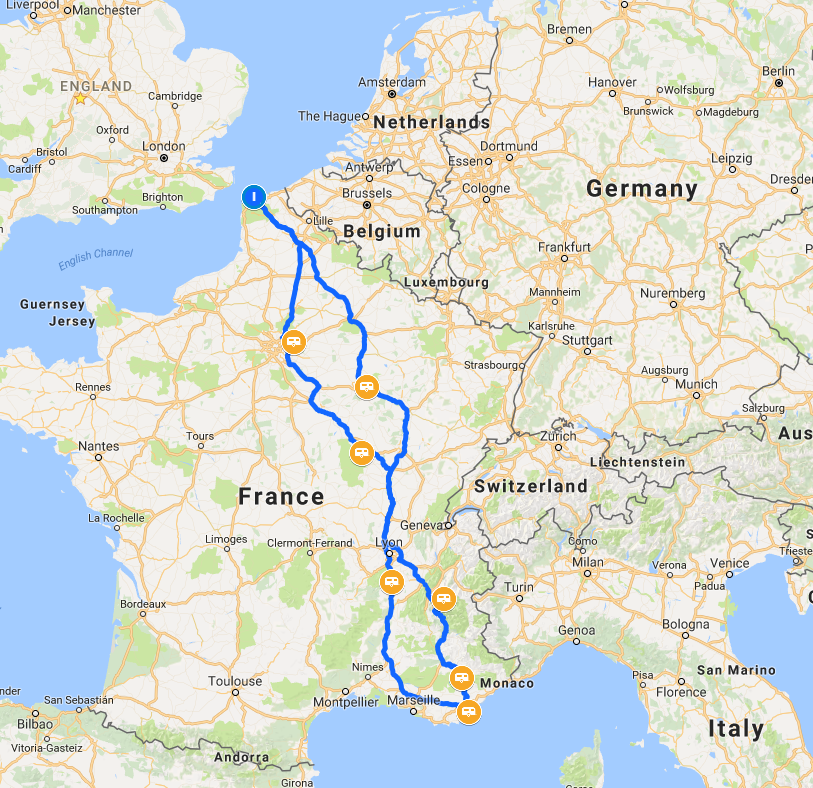 The campsites were all great in their own way. The only odd one out I guess was the one in Sailieu which was picked because it broke the journey to Paris from the Alps, but being in a Parc Regional I had hopes we'd see something pretty and different. As it turned out it was a bit like a watered down Cotswolds and a bit quiet, but it was a break from the driving. Plus, it rained a bit.
I came full-circle in holidays, too. As a child we stayed each year in the mid 1970s at the 'Camping de la Plage' site in Grimaud. I managed to book that this year after a 40 year break.  The site was lovely, we were about a 60 second walk from a quiet sandy beach, and we had a brilliant week. The water pump broke though on the caravan and I had a 47 mile round trip on the bike (on lovely roads, poor me) to a parts shop to get a new pump. I guess that's what happens when you take your home with you… things need to be fixed from time to time.
We'd arrived there a couple of days after a big scare with some fires in the hills around. As we got nearer on the Autoroute and kept checking the news on our phones, it became clear that it was about 8 or 10 miles from where we were and the fires were never any threat to us. Last year's camp site saw a mass evacuation to the beach though. We got away with it!
The beauty award this year, as per 2016, goes to another Gorge.  The French gorges are spectacular and the Gorge du Verdun was a cracker. Hot, but you're never too far from water. Grand.
The beauty of the caravan – or one of them – is you get to take any gear you want with you. For me, that means bikes. They're brill – and not only as a way of me getting my exercise / knocking back the wine hangover, but they also make a great way of getting round in places like the busy Cote d'Azur. This year's morning rides were immensely satisfying. From the wonderfully quiet snaking lanes that wind their way over the Maures mountains in the south, to the dramatically over-cycled Alp D'Huez pilgrimage.  I absolutely loved riding my bike in the mornings this year. It's such a low impact on the family who prefer to doze for a bit on their hols. It clears my head and gets rid of any cobwebs, but above all, the roads are just so flipping beautiful.
But even by my standards, my own cycling enjoyment was boosted to an unforeseen and truly intergalactic level when it started to get suggested that Lily and Elsie could maybe ride up the Alp D'Huez with me on our three-night stop in Le Bourg d'Oisans. I'd had a ride up in the morning and to be honest, that had ticked a little bucket-list thing in me – despite how scarily über-popular it is with cyclists I still fancied doing it.  But that was blown off the scoreboard when I returned for my breakfast after the morning's ace ride to see the girls dressed up in their cycling gear.   "Give it a go and turn round when we need to" was my best estimate of what may happen.  But onwards and upwards they went. It moved me to a choked up state at times and I just couldn't believe it when they both crested the summit. A dream come true. Ice cream well and truly earned. (Relive it here…)
But as I mentioned at the start, a pinnacle has been reached now. Lily's getting taller and is a bit cramped up in the caravan (for long stays like this) and similarly cramped up in the car for 4 hr journeys. Katie's not made for long journeys either, and despite the near perfection of this as a family trip, we need to look at different things next year. Life's a journey, of course, just like holidays like this. It's not about getting there, it's about being where you are and taking what you can do from that, but things started to become clear to me when we were away that this will be our last biggie into Europe in the caravan.   But what a time it was.
To balance all this over-rural, we went city for the last part. Paris is a good spot to break the journey home and we had a bit of unfinished business there from our 2014 trip, where Lily got sick and we wanted to show them Montmartre.
But there was a nice surprise waiting for the girls as we'd bought Disneyland tickets too, and spent our last day of the holiday in the somewhat surreal surroundings of America's export to France.
It seems unfair that, for all the serenity of France's gift to the USA (the Statue of Liberty), France gets this commercial lump of fantasy and greed, but it's probably very appropriate and very American. As you may guess from my tone, it was ultimately more of a shock than a pleasant surprise. Not that Disneyland is not worth visiting… it certainly is entertaining, and the rides ane pretty decent, but after almost 3 weeks of freedom and natural space you get the feeling that you've been had. They channel you through shops at every opportunity without even a polite attempt to allow a slightly affordable souvenir. They sell unlimited tickets so that the queues become unmanageable and if a ride experiences 'a technical difficulty' then they can shut it without any repercussions. You've paid, you're in now – go and find another ride.
But the infrastructure, buildings and grounds are very well kept and creative. I was impressed in some way, but let down in lots of others.
213 photos are here on Flickr as an album, and video from me, then Elsie's own Vlog are below…