Had been very much looking forward to yesterday since January, and it didn't disappoint.  Matthew had very perceptively noticed that no matter how much we ride bikes, there is still some learning to be done.  We spend so much money over the years trying to upgrade our bikes. Uber-legend Mountain bike Skills Coach Ed Oxley's business strapline is 'upgrade yourself'.  The one thing missing from the mix with stuck-in-their-ways 40-somethings like me.
Ed's course was bespoke, based entirely on what we needed out of the day, and after a 10:00 meet-up at the absolutely delightful Dog & Partridge pub / bike shop, Ed, Matthew, Carl, Steve and I headed up onto the expansive and varied trails of Gisburn Forest with our learning heads on.
But before that had even started, I should say that we came from vaguely similar backgrounds – in that none of us have hung out in BMX parks riding tricks or belting off downhill courses on mega bikes.  We were cross-country guys.  Fell runner. Men of fitness.  Outdoory guys. Until recently I never went out on a MTB without an OS Map in my pocket.  We're adventurers. We don't do 'rad', 'gnarly', or even 'awesome'. But I suppose that's why we were here. To try and at least see where the bridge is to the path on the other side.
The day followed a simple pattern;
look at what we're doing already
break down any obvious errors
learn the right way
practice the right way
apply the right way to lots of different situations
That meant repetition. Ride the same bits of track (berms, rollers, rocks) over and over focusing on one or two very specific things (I won't go into those here, but in my personal case it was mainly about expending my legs and putting my weight in the right part of the bike at crucial times).
Simple repetition is very effective. It's something we do very little of in our busy lives. A good bike ride these days is so often a rush.  To turn round and ride the same 100 metre stretch over and over again would be a real luxury. That in itself was a good lesson; a fundamental change to what you want to get out of a bike ride.  Just to work on the riding and the rider rather than the ride or route.
As the day progressed, a few irritating mechanicals cropped up, and they inevitably slowed down the flow of the learning, but they also helped keep the pace of things very relaxing for me. Then, late in the day, all the bits started to gel for me. I'd focused on one or two things and they started to make sense. Was I rad-bound?
The last few runs in the denser parts of the forest started to slot a few things together for me, and I started to weave a bit more flow in between the 'chunks' of trail.  This was the departure-point really; that what we'd learnt and worked on during the day needed now to be applied to the routine rides. I'm very very confident that they will be better for me and that it's made me a better rider of sorts. I discovered some fundamental chinks and I now have them to work at. I'd never have discovered them without Ed's analytical and articulate input.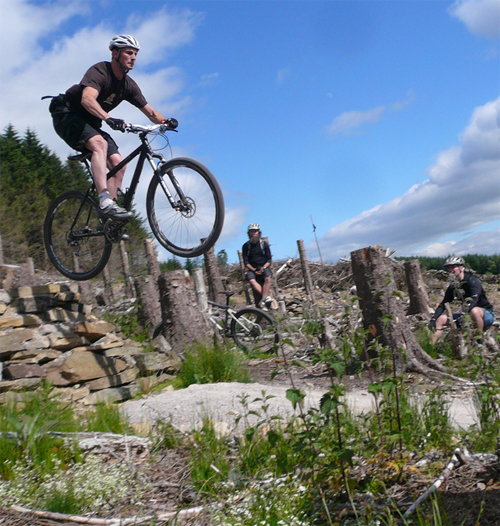 I felt boosted and confident enough to ride a drop-off that was definitely on the rad side of awesomeness. Somewhere between gnarly and fly.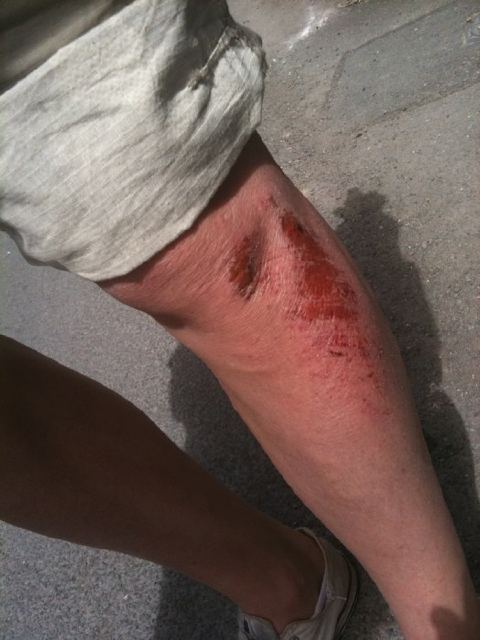 I felt so good in fact, after that little epiphany, that less than 100 metres from reaching our well-earned finishing pint, I fell off.  Ed called it 'over-popping a manual', but I think it was still falling off.
One small graze was an appropriate end to the day. No matter how good you think you are, you can be better.
Some piccies here on Flickr. Thanks to Steve's Photo Stream for the big air pic. His others from the day are here.