I rode my bike a long way. And with a lot of climbing. That's all.
Firtstly, I should say, please don't spend too much time here if you don't want to. There's two much more succinct posts on the Planet X Bikes website – a preview and a post-ride summary. This blog post is more a self-indulgent journal entry with all the stuff that you're quite possibly not interested in. The background, the fluffy bits round the edges; the context.
Goals: Like waiting for a bus.
It's been a funny few months for me with my shoulder woes. After a fantastic post-operative recovery that seemed too good to be true, and was, I was once again facing the prospect of a muted summer and autumn. I'm meeting a consultant in a couple of weeks and we'll see what the next surgery / steps are, but somehow a button clicked in my head this time. I wasn't going to just put a stop on everything.
I started to get focus on what it was and what it wasn't that I could happily 'do'. In were simple, very important things like 'riding my bike' and 'running', but out were things where I had too many things out of my own control – like 'road racing' or most mass-start cyclocross 'races'. Control is an important word with my type of injury: As an aide-memoir, I last dislocated my shoulder whilst asleep in bed. That's a time when I'm clearly not in 'control', so I now sleep in a sling.
Time goes on and, eventually, confidence grows. I start to properly assess what is truly within my reasonable control and what is not. It starts to emerge that there is a whole lot more than I would at first think. Firstly, I realise that a long, drawn-out race like the Three Peaks Cyclocross (my one and only ture love in events terms!) is in fact quite a low-risk / high control event. Essentially, despite all the techy bits, rocks, fast bits, etc., it's pretty much under my 'control'. There are few wheels to switch in front of me – all the risks are mine. So I entered the 3 Peaks, and with the backing of Katie.
W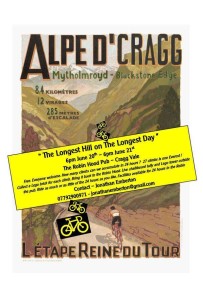 hat was bothering me though was, as the tender age of 44, I really felt I needed these shorter races to make myself fit. Testing sportives are great and, despite cycling snobbery, a n effective way of getting a good hard ride in the legs. But I'm a bit short on time generally, and find them hard to plan ahead for. I really needed another goal. But then I saw this 'poster'. Something daft to do …. "The Longest Hill on The Longest Day".
My kind of hill
Cragg Vale is a not-particularly hard drag of a climb. It kicks up a couple of times to steeper sections but none of them too taxing. The big deal though is that it's technically Britain's longest continual uphill Gradient. The 8.4km (5.25 miles-ish) rises to the top eastern side of Blackstone Edge from the start, to the North, in Mytholmroyd, Calderdale. The people who live there are a great bunch – they do all sorts of events and it always feels a fun place to live with a whole load of local pride. So some people involved in the Robin Hood pub there – near the bottom of the climb – decided to do this daft challenge thing on the longest day of summer.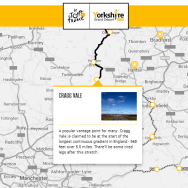 The Tour de France will ride up the climb on the 6th July, so it was coming back to my consciousness as a good spot to spectate, and I hadn't ridden it for about a year. I should go and do this. It'll be a laugh. And I know I don't ride long rides enough. There was an itch to be scratched.
All in the (lack of) preparation
I genuinely do not do long rides.. I have ridden four rides over 100 miles since 2005, (and three of of those have been the Fred Whitton Challenge!). My longest ride in the last 5 years has been 83 miles. I keep myself fit – I race, run, etc., as you probably know. All of my focus is on shorter events. I've traditionally put this down to having a busy family and work life, but the truth is more sinister: I actually tend to get bored of riding my bike for more than about 4 hours. It's diminishing returns. It's not just cycling; any 'escape' for me stops being an escape the longer you do it. (I could compare that to that feeling you get when you take it all in when you go on holiday overseas – the cultural things – subtle things – you take in everything with excitement until, after a few days, it becomes 'normal').
This actually made the whole approach to this project easier for me. I didn't go out, ride long rides, get myself worn out and psyched out, etc. It was already, automatically going to be longer and higher than anything I'd done, so it was about pushing new boundaries and limiting defeat.
Good advice
Cycling friend Greg May of Stoic Focus Coaching is a bit of an endurance specialist and a well-timed phone call to Greg (i.e. about 4 hours before I was about to start) left me with some great 'too late to do anything about it' advice. Things I mainly knew, but needed reminding of. In summary:
Keep moving: each minute of movement is worth lots more than resting, and the rest won't make it easier – it'll give you something to catch up on.
Eat what you want all the time – don't think healthy – just calories down and in any way you can
Protein is needed on things more then a few hours – not just carbs
It will end. Remember that it will end.
… plus a few more gems.
It was handy that the ride had a pub (see the poster) as a HQ that was passed every 5 miles. It gave a lot of options about food and drink. At first, with it being hilly, I travelled quite light, but soon realised that a change of bottle every couple of climbs meant the temptation to stop for a couple of other things, so I settled, eventually, on a three-climb strategy, with a fuel stop after those three. It did me well, really.
A Party
I wasn't alone. This personal quest took place amid a massive, yet laid-back 'project' to get lots of people accumulating ascents up the Cragg Vale climb. There was an exciting rush to proceedings. Some people stood outside the pub having a Coke every lap or two, others ploughed on more purposefully, but there was always people moving up or down the climb. Young and old, fast and slow, on any bikes, including at one-point, an 18-seater of a beast. It was just so nice to be part of.
There was also a personal party of sorts. A week or so ahead of the event I'd emailed a few mates to see who was able to come out and ride the odd climb here and there with me. I was really pleased that some people did – their presence helped me from the start (Brant and Lewis reminding me to keep a lid on it for the first few of the evening) to the next day (Carl and crew helping me ride at a pace on the exposed bit towards to to of the moors). It made me feel really lucky and I'm eternally grateful for having those familiar faces around. They boost you. As did the textx from Lily and Katie – little things that can lift you enormously.
The road less travelled
Doing reps into and through the night on the same stretch of road gives you a lot to think about. Whereas you don't need to think about the route itself, or any navigation, there are some strange, subtle changes that take place. Apart from tiredness itself creeping in, I had some quite bizarre, unpredictable moments.
Witnessing the Tour de France's Graffiti artists out paining names on the road at dusk, a couple of weeks early. And literally watching paint dry over the next hour or so
Watching the Ice Cream Van depot in Mytholmroyd become a hive of activity for an hour, at sun down, as 50 odd vans converged on there, got washed, and parked away for the night
Coming to terms with the fact that full winter gloves, cap, arms and leg warmers are only just going to get you through a midsummer's night. 40mph descents with cloudless summer skies make an incredible windchill.
Having some amazing pursuit of a tiny vole on a steep bit of the climb. (He / she liked the beam of my light, I was moving slowly, and we tussled for about 50 metres – a massive distance for him / her)
Seeing light in the sky all night from the Manchester conurbation all night, at incredibly high levels
Realising that the dawn you'd been waiting for was actually going to be an anticlimax of cloud and mist.
I'm glad all these things came along. The more unexpected things happened, the more I was stimulated, and the less I'd want to sleep.
I want to sleep.
A bad patch was hit. Climbs 13, 14 and 15 were taking their toll more than they should. I had a steering wobble that shouldn't have happened, going uphill, luckily. Not much, but enough to bring it home to me that I did not want to lose concentration at 4-mph plus on the descent. At all.
So, despite the advice, I came into the pub, spent about fifteen minutes eating a crumpet (too tired to chew) and, sitting on a pub chair, put my head in my hands on the table in front of me, and slept. I took a look at my watch, and we had moved on 50 minutes. 'The blink of an eye' is banded about as a phrase, but that is genuinely what it felt like. But the good news, for me, was I felt ready to go out again, straight away.
Changed
Time for a clothes change and goal change.
I had a full change of clothes, a good wash and freshen-up, and felt surprisingly good in the legs.
I'd had this nagging background goal to ride it 30 times. there was a magic 'Everest' figure with 30 climbs, and I knew that was one story-sealing mega achievement. Despite getting 15 of those done by 5am, and having 13 hours to complete the remaining 15, over the next three climbs, I realised I was developing the type of pains in my saddle area that were not going to just go away. There was a practicality in realising that 30 was not going to be on the cards. I had done a long, long ride already – 161 miles and some mega ascending; it was time to slow down and consolidate. I needed to get as much enjoyment out of the rest of the day, basically, and not scar myself either physically or mentally.
So, when Carl, Alex, Chris and Michael turned up on their Saturday ride (detoured, to help me), I was in a pretty good place. I was having to stand up quite frequently now, to ease things in the red-raw bum-zone, but still able to keep up some sort of momentum. I know after climb 18, and my next rest, that 24 hours was going to be too much, so I called Katie and asked if she could pick me up a little earlier than planned … 'whenever it was convenient' for her (ferrying the girls round on Saturday things!)
Neither with a bang, nor a wimper
Anything after 200 miles felt like a bonus – really satisfying. I was obviously tired, but the decelleration had ceased, and I was riding at a steady but constant speed over the ten-and-a-bit mile loops. The odd ride here and there with or even just near others (Giles Perkins, Tim and Toby Kershaw) helped to keep me sane, as did the occasional chats with other strangers I'd just met there over the day. For the final couple of ascents, I was virtually out of the saddle the whole time – posterior practicality – and, as a result was fairly powering-on in places. Who'd have thought it, eh?
And finally, with the arse of a ravaged baboon, but my self-respect intact, I climbed off my bike at about 1:10 – some 19 hours after I'd set out. Alan and his daughter Ella had turned up to see what all the fuss was about, but I was done. 22 ascents, 231.9 miles climbing and descending just shy of 23,000 feet in 15 hours of riding at an average of 15.1 mph.
A final thought on why this was a big deal to me
I wrote yesterday for my kind and generous team sponsors at Planet X that "…as with anything Epic, you only find people more epic when you dig about.". That's the danger of being tempted into judging a ride like this. There's a whole load of people who have gone further and higher, and against more adversity, in crappier weather, etc. But I have an unbridled pride at the moment, that I did something that was – for me, and by my own standards and experience, something epic.