A gap year
I'm coming back.  The race that first sucked me in in 1995 has provided every emotion to me in the intervening years. It has brought me relief, happiness, satisfaction and fulfillment. In 2009, it brought me unadulterated pride.  In 2011, pain and disappointment. In 2006, it even brought me 15 minutes of fame,  But last year, it brought me absolutely nothing other than longing.  For the first time since 1994, I was to be a spectator at the event, having been scheduled for surgery on a chronic dislocating shoulder.
A whole cyclocross season was missed and although I was okay in my head about this, one of the big get-you-through tricks you play on yourself is looking forward to being back to normal in the future. By winter time, when my surgery happened, I was already thinking about the 2014 3 Peaks Cyclocross on the turbo trainer, with my arm in a sling.  Every time. It helped me keep myself going.
The crunching of numbers
Stats don't maketh the man. Manners maketh the man.  And it's good manners not to talk about one's training, less so to use training as some sort of badge.  Racing is racing, and training is training, but in this age of Strava, it's de rigeur to assume that you're interested and almost normal to think that good mileage (both running and cycling in this case) somehow equates to good performance. That is, of course, a load of rubbish, as anyone who races knows. But it is what you with those miles that counts.
The calendar year 2014 has, for me, been one I grasped a bit harder by the throat. Having spent the autumn totally out of proper exercise last year, I made quite a few promises to myself to get out more in 2014. That started in a very temperate January and didn't really stop.  By the end of June I'd ridden AND run as many miles as I had done in the whole of 2013, and although I knew there was no form necessary to someone not racing, it made me feel content.  Satisfied that I was getting out at many more opportunities, going flat out still on most rides, and generally keeping condition in check.
The run up to the last Sunday in September 2014 has given my legs little to worry about.  (My backside had a few more worries).
In other number-crunching news, my weight is down to what it should be.  At long last.  I've been struggling a bit more with each year – normal, I guess – to get down to proper fighting weight. It makes a big difference over three huge climbs – so that's good to know and gives me a warm feeling.  8 lbs lost over summer.
The popping of shoulders
Despite keeping good legs, my body came badly off the rails in April.  The November 2013 operation I'd patiently waited for then studiously recovered from had given great physio results.  To all intents and purposes, it couldn't have gone better. Back on the bike in January and virtually concluding physio in April, I was feeling like that chapter was done and far behind me.
The recurrence of the shoulder injury took me to a pretty dark place. Appointments started once again, advice, referrals, scans, diagnoses, and eventually a settlement about what needs doing.
I very quickly decided that, come what may, I was going to ride the three peaks. I just had to lay down some ground-rules.
Control Freak
Control is king. I popped my shoulder out again – fast asleep in bed on 1st May.  It was 1am.  I couldn't move. I literally couldn't get off the bed, such was the pain. After the ambulance ride, vomiting with the pain, and sedation to reduce my arm back into its home, I had an epiphany. My problem was (at least until this shoulder could be truly fixed) one of control.  I needed to avoid situations where I was not in control of what happens to my shoulder.  Since that control now also included sleeping, I slept in a sling, and have done so now for 141 nights. Remove that risk!
I also set a rule to not race bunch-start bike races until the Three Peaks.  My logic was that the Three Peaks itself, despite being a technical and tough off-road ride – was one limited to the risks that I myself took.  Yes – there's the small issue of a fast bunch start with 600 or so people on the road, but (let's pass over that one) from the moment we hit the fells, it's a spread-out affair.  The risks are all mine – and I am in control. Not someone else flicking their wheel in front of me. Extreme, a touch.  Gnarly and inhospitable, but effectively a lower risk than belting round Colne High Street for an hour. Not zero-risk.  I'm well aware of that.
But I succumbed to temptation, curiosity, and a nagging wanting to get a race out of the way a few days ago in Bolton and races the 2nd round of the North West cyclocross league.  It was fine.  I stayed upright, so it was fine. A small box ticked. Actually, I felt quite fast.  Another one ticked.
The obsession persists
The race that sucks me in has done so with no less gusto year on year. This year's equipment / prep / strategy deliberation and fettling have left me in the usual whirl. I can't ever think I've got everything right, but I'm pretty satisfied that I've done what I can.  I know this for sure: the bikes I have are the best ever for this race, easily.  Things can and do go wrong on the day with bikes, but that risk has been reduced and preparation on that score has been meticulous and considered.
I'm back to the three-bike strategy (yes – I'm lucky enough for that to be an option – I get that).  Whilst it doesn't make you faster in any literal terms, the effect is better peace of mind – and that in itself helps you to go faster. At Cold Cotes, Chapel le Dale, Ribblehead and Horton in Ribblesdale, I will change bikes. Knowing that in itself makes you ride that bit more confidently.  It also helps my support team eliminate any doubt and know what's what.  There's no 'what if' and the whole thing has gone much better that way the few times I have done it that way.  In recent years when I went for a single-bike approach, I had issues that could have been avoided and having another bike back at home when your brakes have fallen off is, needless to say, a bit annoying.
SO… almost by tradition dictating this, here's the bikes and a brief summary of what's in my head
Bike 1
On One Pickenflick (Prototype version)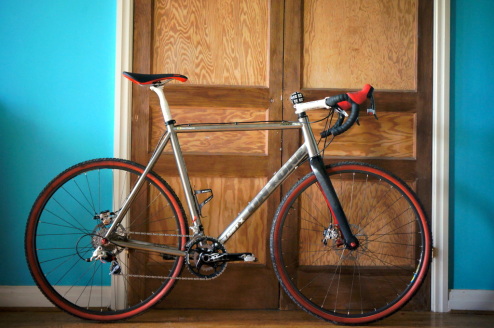 For start to Cold Cotes then all of Penyghent
Ti frame, MTB double chainset, bar top brake levers, TRP HY/RD brakes, bottle cage on seat tube, Tufo T34 tubulars, Multi-tool incl chain splitter, link and and Tufo Extreme Sealant / valve remover and CO2 cannister in tool kit.
Bike 2
Guerciotti Antares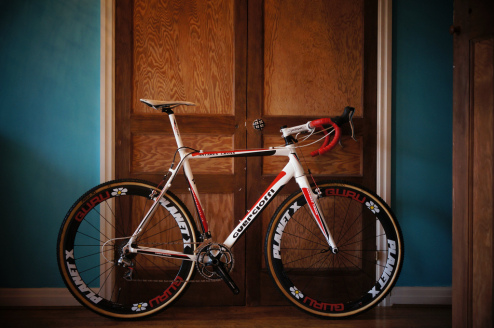 For the road sections between Ingleborough, Whernside and Penyghent
Fast light wheels, Normal CX Gears. FMB Grifo tubulars, bottle cage on seat tube
Bike 3
On One Pickenflick (Production Version)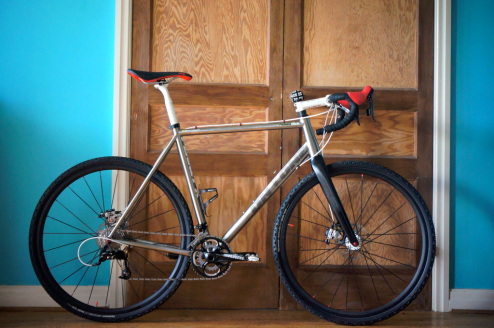 For Whernside
Ti frame, MTB double chainset, bar top brake levers, TRP HY/RD brakes, bottle cage on seat tube, Multi-tool incl chain splitter and spare tube, link, tyre levers and CO2 cannister in tool kit.  Carbon 32 hole clinchers, 34mm Panaracer Cinder Cross tyres.
Forecast
There's a world of factors involved in determining the outcome of the race. I usually have a good gut feel of what my best possible result could be based on who else is riding.  As usual though, there are too many factors for this to bear any resemblance to what happens on the day (particularly shoulder-permitting) and I'll just say it's going to be a tough year. There are quite a few more high end hitters than I'd really like to be there and all other things being equal it's nigh on impossible, even with this year's good conditions and good prep, for this particular 44 year old to scrape inside anything above 18th.  Even with a PB time, if that were even to happen.
But we'll see. The beetroot / mackeral / marrowfat peas have been known to surprise, once in a while.